Are you looking for tips on how to avoid lines at Disney on the busiest days?
Looking for tips on how to schedule out your Disney itinerary to pack in the most amount of rides per day?
Or are you trying to research how to make it through an entire day at Disney on a small budget?
Well if you are, sorry. You came to the wrong place. In fact, this is the opposite type of article. If you are looking for real tips from an honest mom on how to enjoy a Disney vacation with young children – despite any obstacles you may face– then I am your girl!
Our Disney Experience
Last year, we brought our three children (ages 5, 4, and 1 and a half) to Disney World, Orlando. I had to go to Orlando for a work trip, so my husband and I decided to bring the entire family and extend our stay. We were going to visit three Parks in three days.
Spoiler alert: This is an honest account, but hang in there- there is a happy ending!
Like any responsible mom, I started to search Pinterest for tips and advice. Let me tell you… instant panic attack. There were thousands of posts on going to Disney on a budget or making in through an entire park in a day. How to schedule fast passes a year in advance, and how to organize your itinerary. I instantly slammed my lap top shut and decided to 'wing it'. Honestly, I was just looking for some simple advice on a family vacation. I was not looking for how to make planning the trip a full time job.
For all three days, mother nature played a silly joke on us. The mornings felt like we were slowly dying of dehydration in a hot, sunny desert. Then suddenly mid-day, like a someone flicked a switch, the sky opened up and it DOWN POURED on us. I am not talking about rain. This was a full on tropic storm – a monsoon, if I may. I was told that Florida storms roll in and out quickly. Not these ones. These torrential downpours lasted for hours.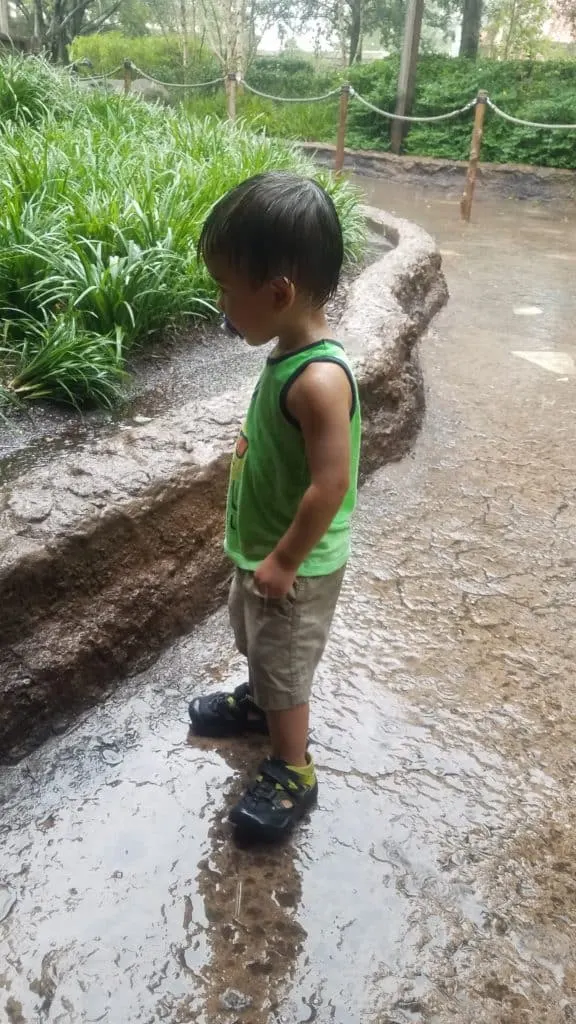 The lines were long. Ok, maybe I am a line-hater who leaves Subway empty handed cursing under my breath if there are more than 3 people in line in front of me. BUT, with three kids under six ANY line is a long line. Even though we had tickets and arrived at the park bright and early, we still stood in line for over an hour to get in! The kids were miserable!
Also, check out these brilliant and fun non-Disney family Vacations!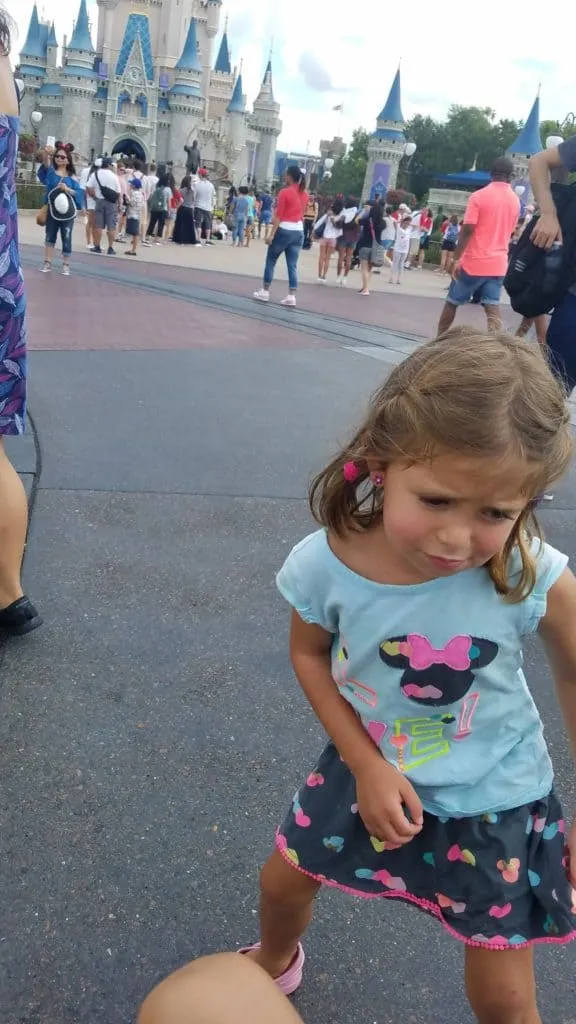 Basically, I felt like we set ourselves up for failure. Most parents arrive with the highest expectations of making their children's wildest dreams come true. They spend 100 hours planning out their days, and when things go wrong (which they will with little kids), they are crushed.
Here is the kicker! We still ended up having the greatest time, and I owe it all to these three simple tips and mindsets! If we could have fun after this, anyone can! (Note: my son is not wearing pants because he threw up on them the moment we arrived at the park.)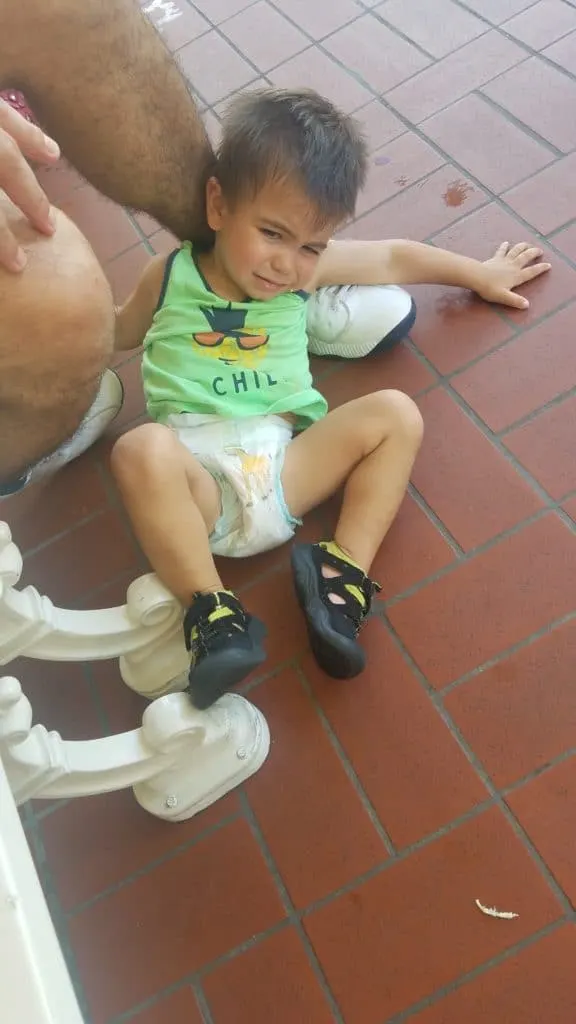 Guaranteed Good Time with These Tips
After our experience above, if my husband and I could still leave Disney on our last day with a 'mission accomplished' high-five, then anyone can. Here are our three super simple tips to guarantee a good time at Disney.
1) Have low expectations
That may sound silly and a bit depressing, but hear me out. We made a deal to go into this trip with no expectations. We simply wanted to bring the kids to Disney. We didn't care if we rode 10 rides or 1 ride. We could care less what characters we saw.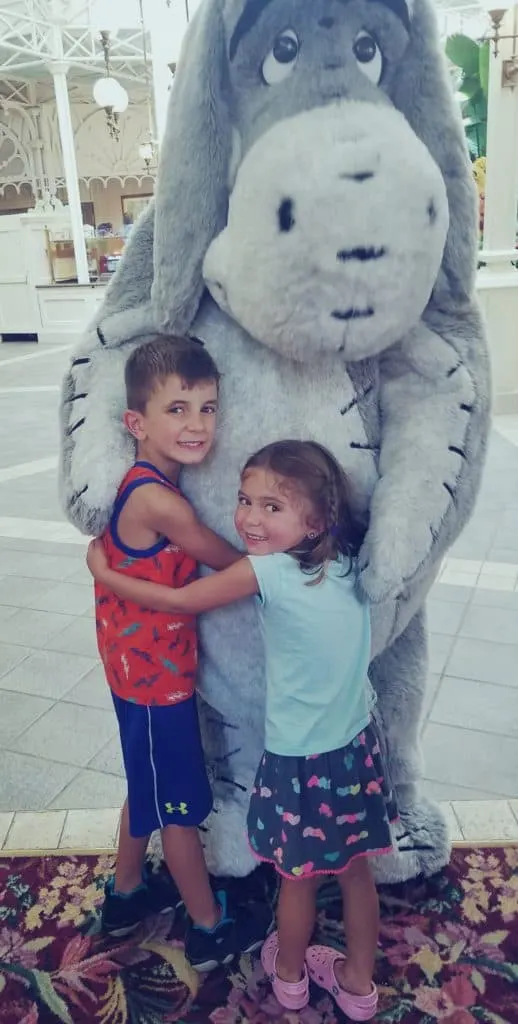 No, we didn't see Mickey. No, they have no clue who Winnie the Pooh was, but that doesn't matter to little kids. They are in awe just to be at Disney and soak in the experience. Disney does a great job of having entertainment at every corner. Your children will not miss out if you are late to visit a character or don't ride one of the classic rides.
2) Don't take tantrums personally
It is a 100% fact that your child will cry at least once at Disney. They are tired, hot, and over-stimulated. Don't get stressed about it! They can't help it, and it is only natural.
Bite back the urge to call them ungrateful. This will only add stress to the trip. Stay calm. Tell them you understand. Distract them the best you can, and move on. Let them get a good cry in. You may feel like people are judging, but I guarantee you that if you look around you will see another kid in the park crying. No worries!
This was taken one minute after a giant temper tantrum. He zonked out immediately. Little guy was only tired!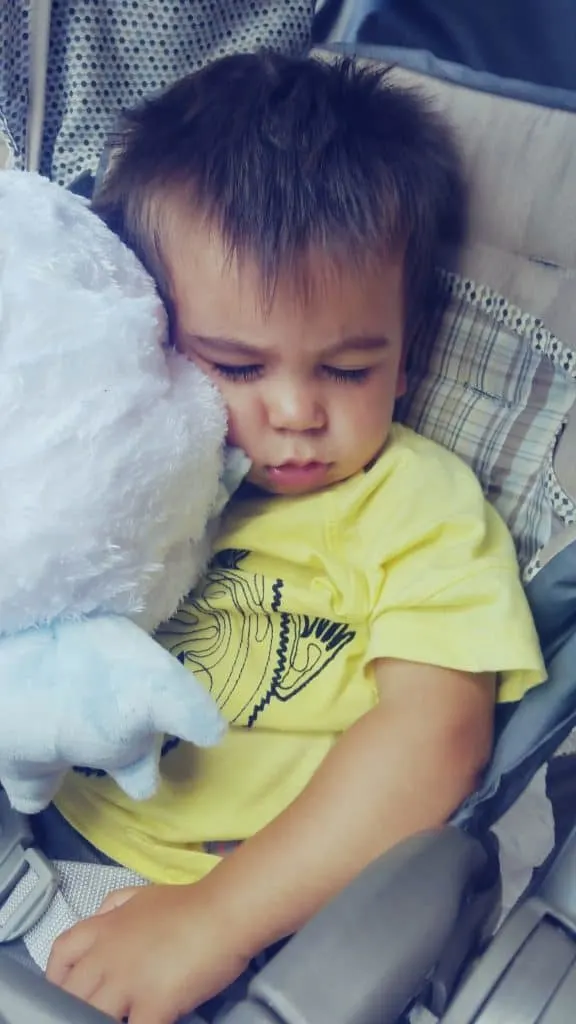 3) Don't over do it
I get it- this trip was expensive and you put a lot of time into planning it. However, pushing through when everyone is tired will only cause extra tears.
Make sure you sit down for lunch and relax a little. Also, don't feel like you have to stay until the park closes. It may be more enjoyable for everyone to head back and relax at the hotel instead of pushing through with cranky kids.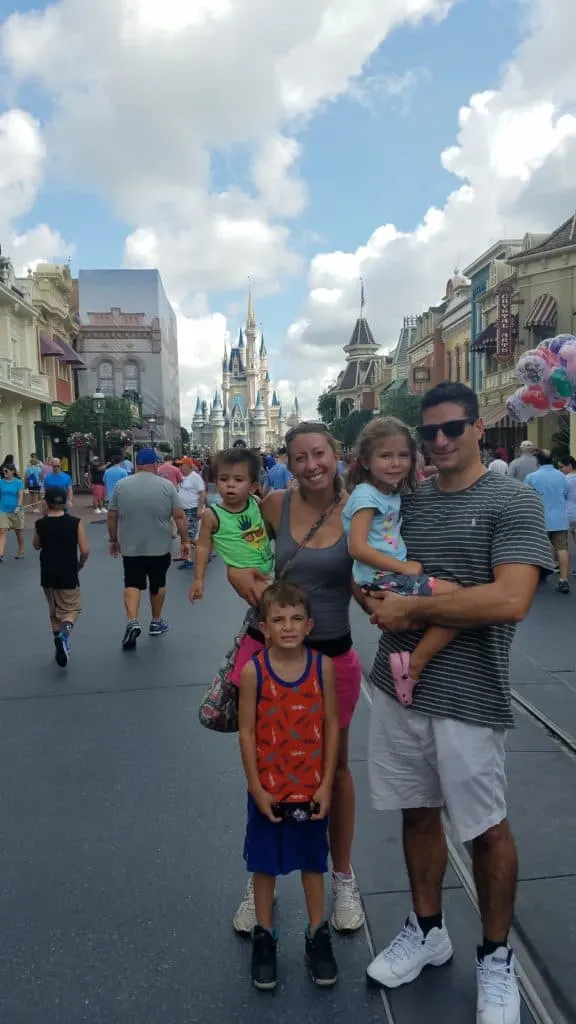 Also, don't feel like you have to plan out fancy meals for your family. Our first lunch was ~$40 per person for a character buffet and each kid only ate 1 chicken nugget. After that, we just enjoyed hot-dogs and fries at a stand!
Final Thoughts on a Realistic Disney Vacation
Buy some Minnie ears for the little ones, grab a poncho if it rains, and invest in some Mickey lollipops if they are cranky.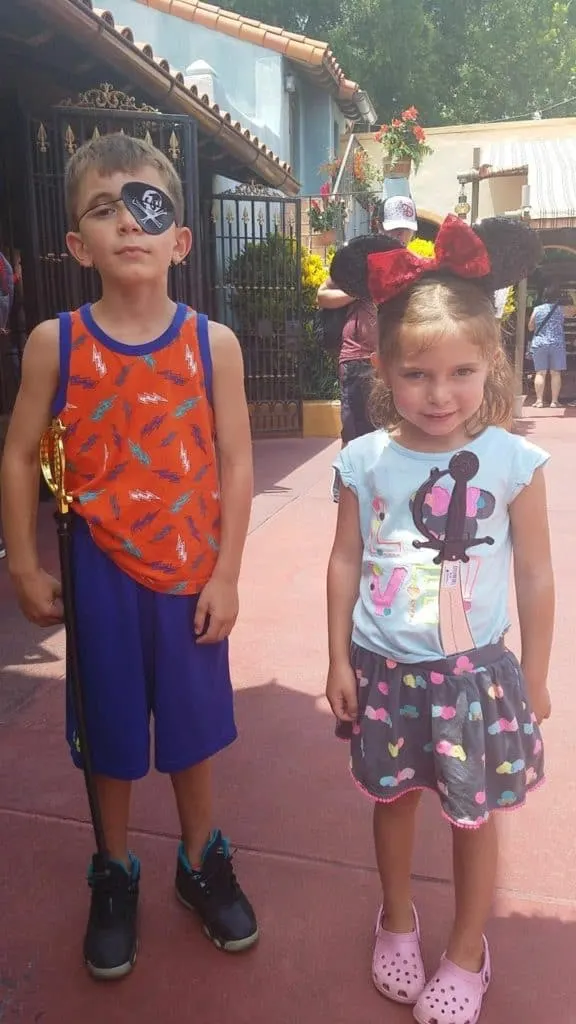 The folks at Disney do a fantastic job making sure everyone is entertained and has a great time. Don't let your expectations get in the way of enjoying some great quality time with your family. Your kids won't remember the heat, the lines, or the rain- they will remember the that you took them to Disney World and their dreams came true! My kids still bring up our Disney trip on a daily basis and only have the warmest memories of this vacation.
Did you every go to Disney? I'd love to hear about your trip in the comments below- and I hope I am not the only one who had a rough start there!