Does simply saying the word "spring" make your heart smile a little? Mine does! That is why spring photography is so wonderful. Your surroundings transform into the perfect canvas to capture these happy emotions.
Spring is packed with bright colors, soft sunlight, and memorable outdoor activities. Whether you are a professional or hobby photographer (or even using your cellphone!) this season is an ideal backdrop for your picture.
If you are in a location that experiences seasons, then spring symbolizes the opportunity to get out and breathe in fresh air after a long winter. If not, it may symbolize your last chance to enjoy the outdoors before the sweltering summer approaches. Regardless, just like every season, your surely have nostalgia and traditions associated with the time of year. Capture these 6 fun spring activities to photograph the essence of the beautiful season and to portray what spring means to you.
1) Splashing in Puddles
When I think of spring, I think of rain. "Jumping in puddles" is a spring past-time at our house. My kids get on their boots (or go out barefoot), and find the biggest puddles they can.
Try sneaking a few shots of your subject running through the rain, jumping in a puddle, or huddled under an umbrella. If you can pick up on some of the reflections in the water, you will no doubt have a picture you will treasure.
Photography tip: If you are using a DSLR camera, make sure you increase your shutter speed so that you can capture the water drops!
2. Flowers from the Showers
Those soaking rains produce more than puddles waiting to be jumped in. Spring brings the birth of a colorful array of flowers.
Find a field of flowers, a dandelion to blow, and use it as a prop in your picture.
Photography tip: if you are using a DSLR camera, try lowering your f stop (aperture) and focusing in on the flower for a memorable photograph!
3. Dirt Don't Hurt
I'd love to pretend that spring is all flowers and sunshine. In reality, it is a lot of mud and dirt, too. But that is okay! A great photo isn't always one that is filled with [textbook] beauty.
A little natural, messy play can create the most classic spring pictures! Try to capture these muddy moments that signify the end of winter!
4) Hiking and Outdoor Activities
There is no better feeling than those early days of spring – listening to the birds and feeling the warm air. What is your favorite springtime activity? Do you go on a hike, bring a soccer ball to the local park, or go fishing? Whatever it may be, try to capture it!
5) Playing at the Park
The minute the cold weather breaks, we find ourselves searching for parks. Not only do kids love to play at parks, but it really helps you practice your photography skills! There is no better subject to train your photography eye than a fast running kid!
Photography tip: if you are using a DSLR camera, make sure you have your shutter speed set high (fast), so that you don't have movement blur in your pictures.
6) Soaking in the Sunshine
Spring is a celebration of sun and warmth. We spend every second we can outside enjoying the heat from the sun. Highlight those beautiful bright blue skies and warm glow of the sun in your spring photos.
Summary
What is your favorite part of spring? Capture it in your photos, so that on dreary cold days (or years down the line) it will trigger those warm spring memories. When I take pictures, I think of what we will want to look at in the future, and what memories we want to hold on to. I put all of my pictures in easy-to-create photo books at Mixbook.com. Check them out here: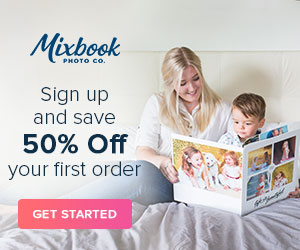 Make sure to subscribe to get full access to all of my freebies including this printable, fun spring checklist!
If you are interested in stepping up your photography game, consider getting a 50 mm lens if you do not have one. I use it for 99% of my pictures!
If you found this helpful, share it!