These 10 prompts for family photos encourage natural expressions and candid photos which provide the most beautiful images.
As a photographer, whether professional or hobbyist, you may feel a little nervous before taking pictures for someone, especially if it is paid family portraits.
What you might not realize is that your subjects are most likely just as nervous, if not more, than you are to be in front of the camera for their family photo sessions.
They are worrying about outfit selections and how they are going to smile. If they have children, then their own appearance is often the least of their worries.
I have been on the posing-end of the camera with my husband and three children. Not only would I have to coordinate their outfits, but I would have to pray that they would actually cooperate and put on those uncomfortable clothes. My youngest refuses to smile for pictures, and if my daughter isn't in the very middle of each picture, then she has a meltdown.
The majority of the time, simply lining up a family in a straight line and yelling "Say Cheese!", will just not cut it.
Taking headshot photos? Follow these simple headshot tips for photographers.
10 Awesome Photography Prompts for Family Photos
Think of photography prompts as a simple encouragement, or nudge, for your clients to interact, without feeling awkward. This simple tricks are the best way to get candid expressions during a family session.
Using photography prompts is a great way to get relaxed expressions, genuine smiles, and natural moments in older kids, young children, and families of all kinds.
These will guide the whole family to interact naturally and produce beautiful photo-ready moments.
The following 10 prompts work great for family sessions:
1) "Look at the person who…"
Based on the age of the family members, you can fill in the blank to capture real moments. The goal is to get the subjects to naturally look at each other, laugh, and have a natural smile.
Some examples include, "Look at the person who:"
Has the stinkiest morning breath
Took the longest to get ready this morning
Has the ugliest feet
If you are looking for great prompts for couples photos, check out Veronica June Photography here!
2) Play "Guess the Tune"
Another easy prompt that produces genuine emotion is the "guess the tune" game.
Ask one family member to hum any song, and the rest of the group has to try to guess it.
You May Also Like: How to Take Pictures During the Golden Hour
3) Surprise hugs
Pull aside the children, ask them to stand behind their parents or the adults and give a big hug when you give them the signal.
When you give them the designated signal, they will surprise hug their parents. Snap away for a great photo!
Pro Tip: Make sure you have a fast shutter speed for this picture.
4) Tell kids to show you a superhero/princess expression
This is one of my favorite family portrait poses, and this prompt works great for getting natural facial expressions in little kids.
Tell the little boys or little girl to act like their favorite character at the count of three.
They instantly pull out their most natural smiles when they are asked to smile like a princess or super hero.
Transform your photos with these great lighting tips here: Including How to Find Open Shade
5) Do NOT smile
When you tell the children you are photographing to NOT smile, it will produce one of two results. Either the children will bust out laughing while they are trying to suppress a smile – or – they will give serious expressions.
Either way, you will have a beautiful and unique photo opportunity.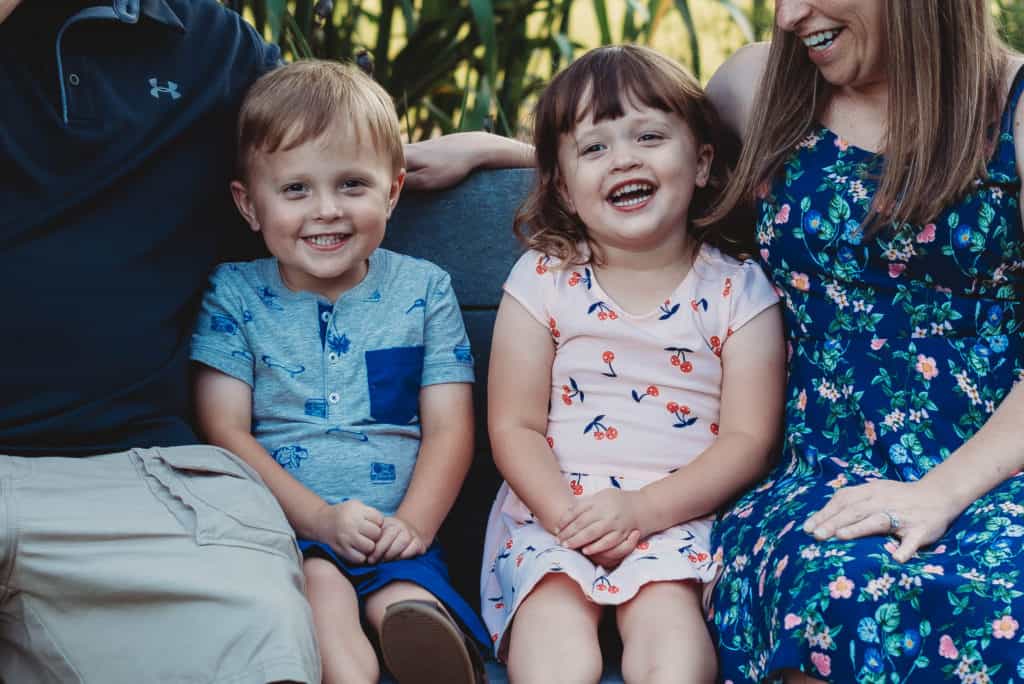 6) Walk and talk (one of my favorite family prompts!)
Another way to get a classic and great photo is to simply have them walk together.
Ask your subjects to walk somewhere and causally chat. You can even suggest that they do piggy-back rides for extra authentic family moments.
Whether they are walking to you or away from you, you are sure to get some great snaps. This will also help you get a different angle for your portraits.
You may also like: The Best Posing Tips for Getting Natural Shots with Little Children
7) Play "Guess Your Age"
As a family photographer, it is important to keep the mood light and natural.
Tell the child that you are going to guess their age. Always guess higher – for example, if it is a 5 year old, guess that they are 10 years old. They will always get a kick out of that.
If you are brave, ask them to guess your age!
Click here to Learn Tips for Photography a Large Family
8) Snap away when they don't think you are taking pics
Some of my favorite pictures have been taken when the subjects have no idea that I am photographing them. Take some pictures when while they are setting up or during breaks.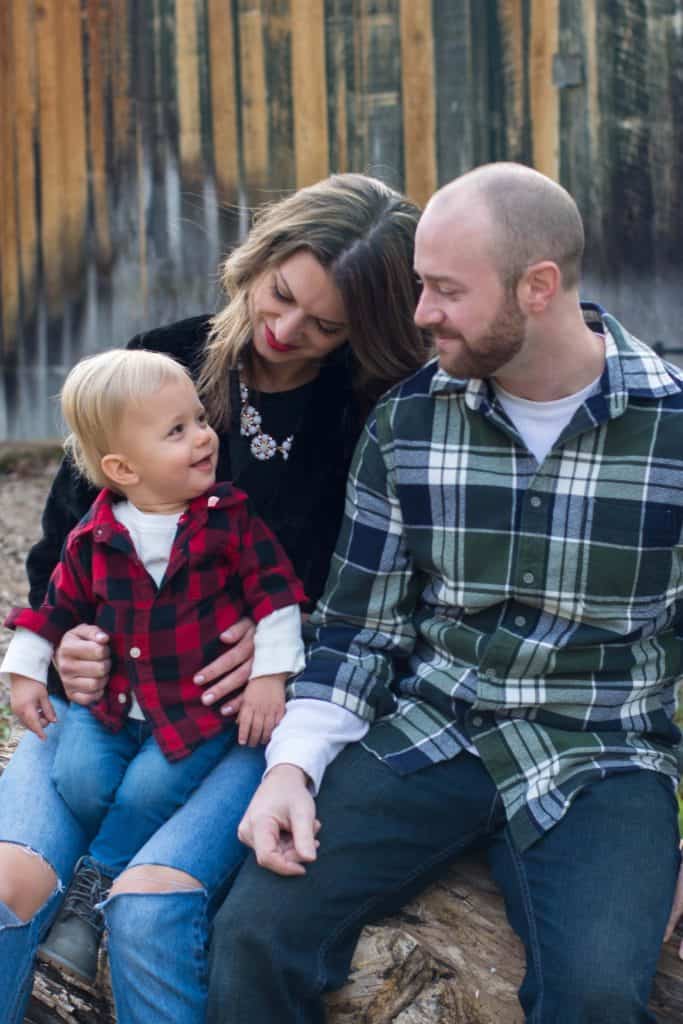 9) Family Tickle Session
For guaranteed candid moments, ask the adults or parents to cuddle in with the kids and then tickle them.
The tickle fight is so much fun, especially for young children.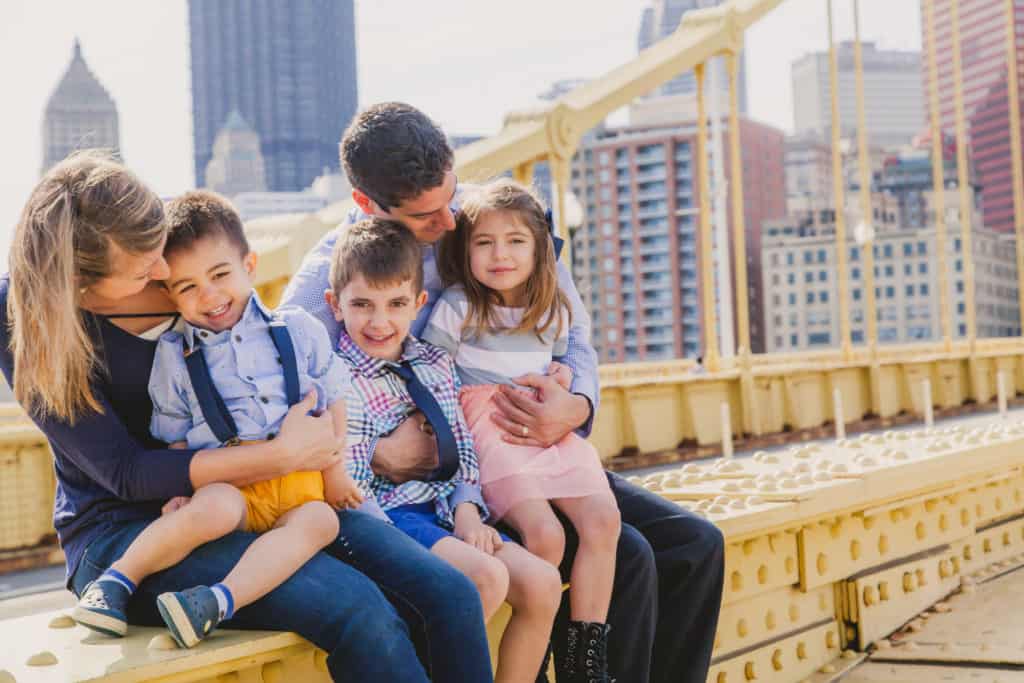 10) Kids look at camera, parents look at kids
Instruct the kids to look at the camera and smile. Then, ask the parents to simply look down at the kids. It gives a very natural look to a posed picture.
Focus on the child's face for this unique and different pose.
Final Thoughts on Prompts for Family Photos
These fun and simple family photography prompts will instantly take the stress off your clients, and result in natural interactions, great reactions, and fun photo shoots.
When your subjects feel comfortable, everyone will have a great time and so much love will shine through in the final pictures.
Click here For free photography tutorials and a free printable Beginner's Guide to Photography.
Print your prompts for family photos here:
If you found this helpful, share it!