Rewind back to your past and try and think about your favorite holiday memories. Now, think ahead at what you are most excited for during this upcoming holiday season. Is it decorating your Christmas tree ? Making Christmas cookies? Or seeing Santa?
You see, the reason holidays are so special are because of family traditions. All year, traditions are often the backdrop to your favorite memories and future excitements; however, this couldn't be more true around the holidays. Holidays exist because of traditions.
There are Christmas traditions from my childhood that I remember like they were yesterday. I want to be able to provide my children with the same experiences! In December, we have a lot of family traditions that we love and look forward to, but there is one that my kids look forward to most of all. Fortunately, for us it is super easy, very affordable, and fun for everyone! We make Christmas cookies! We all look forward to gathering around our Italian Nunnie and Pappies kitchen table each year for this tradition.
If you are looking for a new family tradition to really create lasting memories for your children, then you'd be crazy to not try this!
What You Need:
Studies have found that the sense of smell is closely linked with memory, more so than any of our other senses. That is one reason why the Christmas cookie making tradition is one of my favorite. Here is a list of what you need to get started:
Sugar Cookie ingredients – purchase a sugar cookie kit like the one below. You will only need eggs and butter to go with it. You will also need flour so that the dough doesn't stick to the cookie cutters and rolling pin.
Holiday-themed Cookie Cutters- purchase one of these sets
Optional: Holiday aprons, which kids love!
Get Started!
Kids can participate in all three steps of the cookie making process, which makes for a great long evening. We play Christmas music and start baking up some memories!
First, you will have to make the dough. We buy dough kits that are very easy for the kids to help with. You mix the kit with butter, water, and egg and kneed the dough. We coat the rolling pins in flour and flatten out the dough.
The next step is to use the cookie cutters to make the cookies before you bake them. We all pass around the same Christmas cookie cutters that we have used year after year. Sure, there are fancier ones out there; but, the kids look forward to using the ones that they remember.
Once you are done making the cutouts, you have to bake them and wait for them to cool. Personally, I enjoy this part to because we get to hang out while we smell the cookies bake!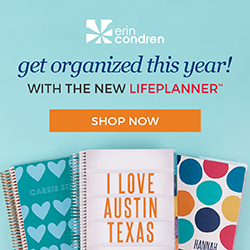 While the cookies are cooling down, we make the icing. To make the icing, we just mix powdered sugar with water and add in different food colors to make all different colors.
Now for the fun part! Once we have the different colors ready, the kids decorate the cookies. They just use a spoon to ice the cookies and add on any sprinkles they want!
Don't forget the most important part! The taste testing! We eat a couple and make sure to put a few out for Santa each year.
Christmas cookies are so easy and fun, you can't afford to not give your kids this memorable tradition. They will remember this for the rest of their lives, and you will get some cookies out of it! Who doesn't love that!?
If you found this helpful, share it on Pinterest!