Like any responsible human being, this year I made sure that I bulked up to survive the cold winter months. This included the following seasonal preparation:
During fall, I scavenged all of my children's leftover Halloween candy while they slept at night, and I promptly washed it down with thick pumpkin flavored drinks.
When winter came, I was dedicated to hunting for any cheese that I could find at any winter holiday gathering. I also hibernated in between those gatherings to ensure I wasn't wasting any energy.
At times it was challenging to take in more calories than I was burning, but I stuck behind the cause and plumped up.
At this time each year, with bathing suit season approaching, I usually join the mass crowd of moms who are panicking while thinking of squeezing into a bathing suit.
I stare down my swimsuit, sitting on my bed. It is mocking me, isn't it?
My pre-baby self wouldn't stress over these extra pounds. I would drop 5 pounds if I even looked at a treadmill; however, three babies later, the pound shedding doesn't come so easy anymore.
This year, something has changed. I have developed a new love for my post-baby bathing suit body. Here are the 5 things I love about it:
1) My hips hold up my bathing suit bottoms
I remember a time when I would accidentally moon any pool-goer each time I dove into the water. My tanless bum would shine bright to anyone who was in the vicinity. Tragically, my skinny hips just couldn't hold up the suit against the force of the water.
Now, ain't nothing getting past this waistline. My bathing suit squeezes tightly around my baby-bearing hips. You would need the force of a 100 waterfalls to drop this mama's suit when I dive in.
2) Cellulite thighs make a great pillow for tired kids
When my kids need a break at the pool or beach, they retire to the beach blanket for a quick rest. If you didn't already know, cellulite is the world's most luxurious and comfortable, natural pillow.
My children look like little king and queens as they cuddle up and sink into my thighs for the ultimate cozy rest. I pity the skinny folk who have to drag extra chairs around.
3) Stretch marks ward off younger men
Granted this has yet to happen, but it is comforting to know that if any younger men checking me out at the pool try to hit on me, my pregnancy stretch marks will defer them from wasting both of our time.
Similar to a wedding ring symbolizing marriage, I wear my stretch marks proudly, as they are telling the world that I am no doubt a Mama.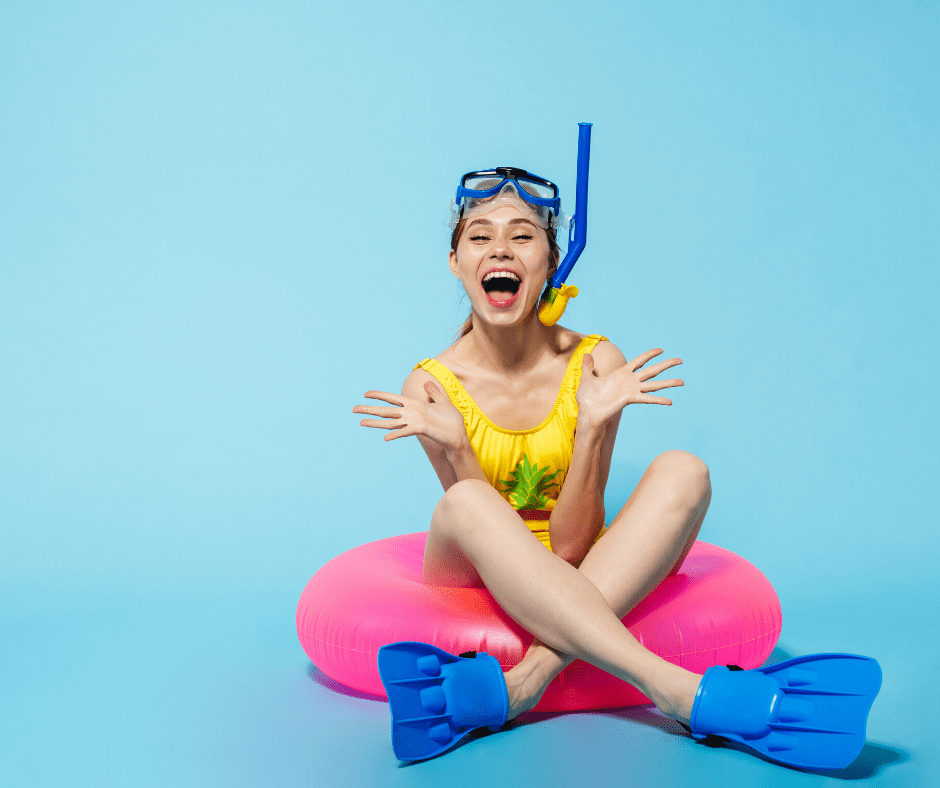 4) Nip-slip fear no longer exists
My perky pre-breastfeeding boobs were always at risk of an accidental flashing. Lucky for me, this is no longer a problem.
About 3 years of breastfeeding, if one of my kids, grasping for something to hold onto in the pool, would accidentally pull my top down, they have about 6 inches to go before we are at risk of a nip-slip. Crisis averted.
5) Summer has a new meaning
Even in my skinniest years, I remember worrying about pulling shorts over my bathing suit just in case someone thought I looked big. Having children not only changed my body; it also changed the way I see the world. I realized one thing:
No one cares what you look like in a bathing suit.
Especially not your children! No one is judging my cellulite or stretchmarks. Enjoying your family should be at the top of your priority list.
Summary
It is time to own it, flaunt it, and love it. Spend more time enjoying your kids and less time worrying about your beach body.
Not to mention, this year I should come in first place in our family cannonball splash contest!
If you can relate, check out some of my other posts and share it!
Follow us on Facebook for up to date discussion!