Occasionally, your house will need a deep cleaning (gulp). While this can feel like a daunting and overwhelming task, this free printable house cleaning checklist will guide your family members through cleaning tasks. Learn the best way to have a clean home and a clear mind with these daily tasks.
Last month I had a legit, full-fledged panic attack.
It was completely and entirely due to the state of my home. In fact, my home resembled a vandalism crime scene, that had a stage 4 tornado rip through each room.
It was ironic that I was trying to go for a 'farmhouse' feel when it was starting to smell like a horse barn.
In my defense…. Do I really have to finish that sentence? If you are a busy mom, you just know how fast these things can get out of hand.
When I decided to dig up my old daily cleaning schedule, I wondered why I didn't do it early.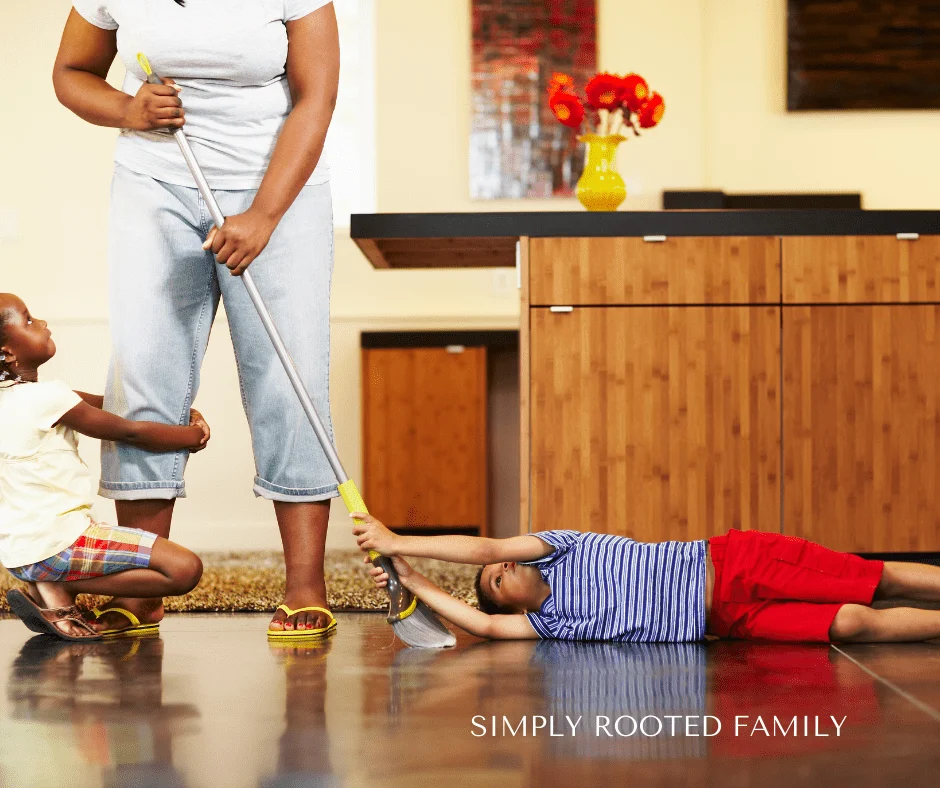 Dig for Motivation to Clean
Before cleaning, take a minute to get motivated.
I know what you are thinking. Motivated to scrubs toilets, pick up legos, and wipe the kitchen floor- are you crazy?
But it is important to dig deep and find what motivates you. Realize how much better you will feel when it is done.
To me, a clean house meant that I had more stress-free time to focus on my kids.
In fact, studies have found a link between stress levels in women and a cluttered household. https://www.nytimes.com/2019/01/03/well/mind/clutter-stress-procrastination-psychology.html
A clean stove and a tidy home is literally linked to happiness.
A messy house is a huge weight on you. When you remove clutter, you can improve the quality of life.
Related: Sensory Overload is a Growing Problem for Parents
Deep Cleaning Plan of Attack
Depending on your style and the size of your home, there are two stress-free ways to get your house in tip-top shape.
The good news is, when you initiate one of the below simple plans, you can efficiently declutter your home and your mind.
You may also like: Easy Method for Eliminating Toy Clutter
1) Room-by-room option
The first option, if you are like me and sometimes get in a manic mode and want to clean the whole house in one day, it is best to work by room. This is a great way to get the family involved.
Whether you are taking on these household chores alone, or dividing up the duties, this free printable house can help make this style of cleaning more bearable for you. (Scroll down for all free printable cleaning checklists).
Here is a simple cleaning hack:
The best way to start with this method is to begin with the easiest room to clean. This will get you in the flow, without burning you out. Often this is a dining room, office, or unused area.
Next, tackle the hardest room to clean or the larger tasks, this way you can get it over with early on and stop dreading it. For me, this is the kitchen or bathrooms (because scrubbing the kitchen sink and toilets depresses me).
Afterwards, work through the living room, bedrooms, and other areas in your entire house.
The key is to take your time and complete the entire free printable cleaning checklist. If you skim over a specific task, you will have to work harder next time. (checklist is at end of post)
Related: You are NOT an Angry Mom, You just need one of these 6 things.
2) Day of the Week Option
The other way to deep clean your home, which is especially good for the mom who is dreading it or too busy to dedicate an entire day working towards a clean house, is to space it out with a daily cleaning schedule.
While this can be your once-a-year comprehensive spring cleaning checklist, it is also easy enough to be a weekly schedule (doing a little on a daily basis).
Don't miss these cleaning tips on how to clean carpet stains (or how to clean carpet spills and smells).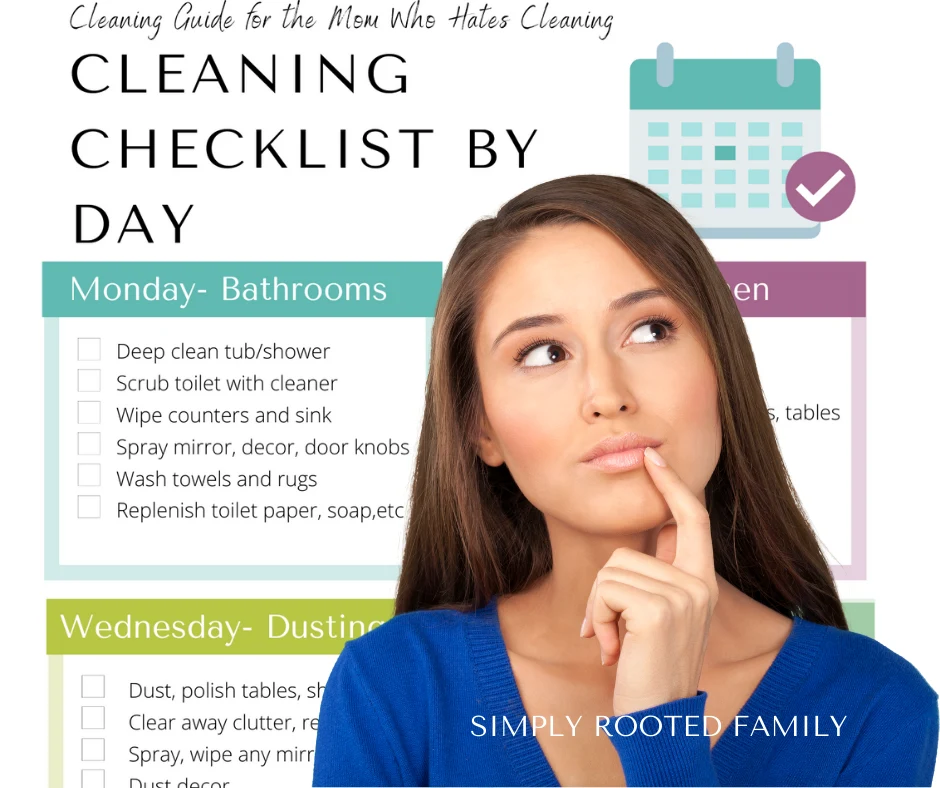 The great thing about this method, is that when you tackle a little at a time, you don't waste time dreading it so much.
This free printable house cleaning schedule breaks out chores based on different days of the week. Each day you will do one task. It shouldn't take a very long time, but your house will be clean by the weekend.
For both cleaning checklists and more helpful home management guides, instantly download packet here. It includes a blank version of this cleaning schedule template for those who want to modify it.
You may also enjoy these Mindfulness Activities Designed for Overwhelmed Moms
Best Cleaning Products
Note: this post contains affiliate links, meaning that if you purchase an item, while it is no extra cost to you, I may earn a commission.
Learn all about cleaning with vinegar here. A cup of vinegar kills bacteria and can clean without smears.
Instead of pushing dirty water around with an old mop, do yourself a favor and consider buying a Bissel Crosswave. This is my favorite cleaning product:
Final Thoughts on Cleaning Checklist
Cleaning doesn't have to be such a terrible and hated task.
When you stay on-top of it with a simple checklist it becomes a small part of your day.
Do I dare say that I actually enjoy crossing off things on this list?
For more up to date discussions and free printables, follow us on Facebook and share this.