Productively working from home with kids always sounded like an oxymoron to me. Like actually getting work done with your children in the house. It just sounded impossible to me.
With my three kids running circles around me, I can hardly even round up enough brain cells to concentrate on brushing my teeth, let alone complete projects on time.
When I learn about other mothers who work at home when their kids are home, I practically drop to my knees and praise them.
With recent circumstances, I became one of the many parents who had to work from home indefinitely while schools and daycares were closed down.
Things just had to change for this deer-in-the-headlights Mama. I am not a schedule-oriented mom in the least bit. I am more of a wing-it type of mom.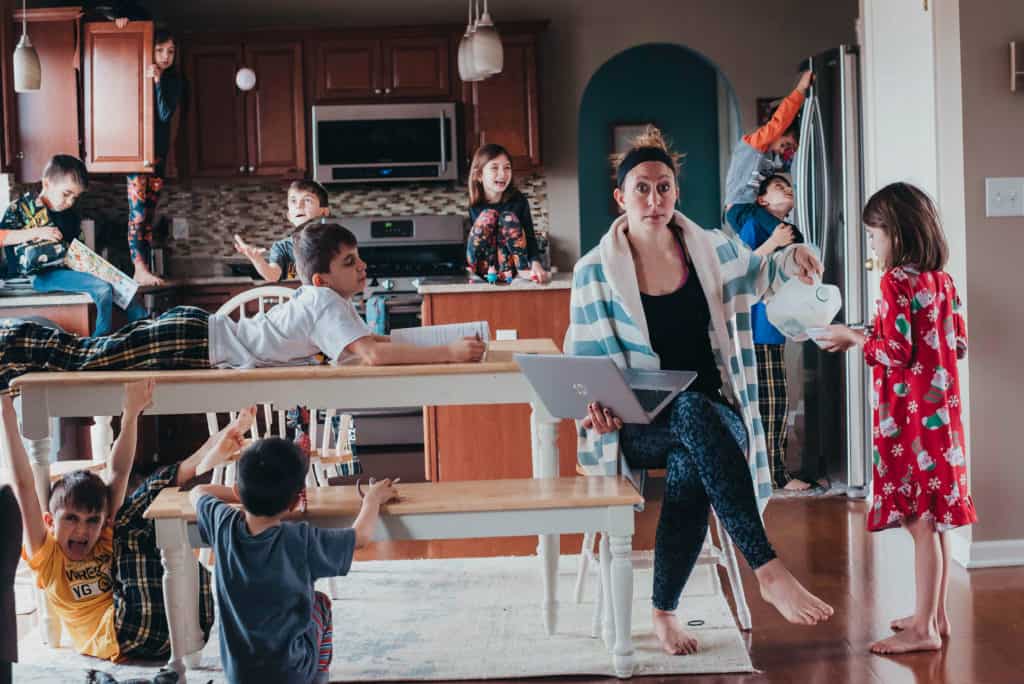 Related: 3 Mom Thoughts that are Uncomfortable but Common
I had to find a way to stay productive with work, and keep my kids happy, fed, and from destroying my home.
Basically, I had to do what moms do best – adjust.
5 Ways to Stay Productive While Working at Home with Kids
To make this all work, I did what I do best. I complained to other mothers, and asked them for their input.
With the advice I gathered from other mom friends, and my short, yet intense stint as a working at home mom, I found 5 simple ways to make this work.
This advice is especially helpful for the mom who gags when she sees the minute-by-minute daily routine charts floating around the internet.
1) Prepare yourself for the day
When you are working from home with kids, you have to tap into your deepest multi-tasking abilities.
Preparing for your day is key. I know it sounds like common sense, but you will NEED to feel rested. Get to bed early the previous day. Start your day with coffee, tea, yoga, or whatever helps you wake up ready to go.
Part of preparing for my day is getting up before my kids. If I can get up, fill up on coffee, and have the house looking presentable, then I am mentally ready to tackle my tasks- whether work-related or home-related.
2) Time Your Tasks
Like I mentioned earlier, I am not a schedule-oriented mom. So, when I talk about timing, I am referring to it in a very general way.
First, when possible, I time my work around when my kids are sleeping. For example, I can get 2 hours of work in (from 6am to 8am) before they are up. If your kids nap, that is a good time to complete some of your work, also.
Secondly, I lightly plan out parts of my day. For example, I will turn off all technology in our home for an hour, then allow my kids to watch television or play on their tablets for an hour while I focus on my work.
I am typically pretty strict about limiting screen-time in our home; however, when I am working from home with my kids, those values lighten up quite a bit.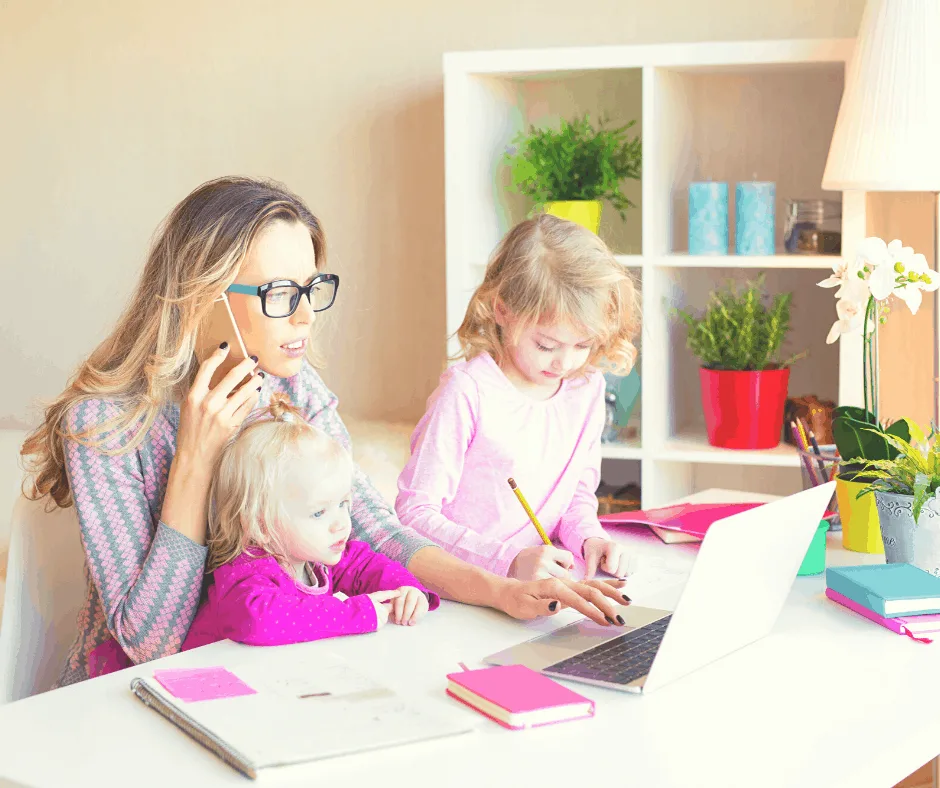 3) Designate a special place to work
A designated work place is important for two reasons.
First, it is a huge predictor of my productivity. I find that if I try to work at the kitchen counter or on the couch, I am instantly distracted. My eyes slowly drift off of my laptop and onto the dish-filled sink.
Secondly, kids will realize that when you are in the designated work area, you are working. It gives some boundaries to all the gray area surrounding working at home.
Do you have a desk that you can work at? Try to do your work from the same spot each time.
4) Develop Quiet Time Activity Corner
Proactively squash the "we are bored, there is nothing to do" complaints. Develop an area of your home with quiet activities to direct your kids to while you work. You can include some of the following:
Legos
Coloring books
Blocks
Playdoh
Toys they are interested in
With all these items in one place, my kids know where to go when I am busy,
5) Reward Good Behavior
This lifestyle can be confusing for your kids, as well. They have to learn that you have other obligations and responsibilities. Also, they have to learn to be patient and respectful of your time. This can be a huge learning curve for your child.
Make sure you acknowledge when your child listens. Reward them when they are patient and respectful.
Small verbal or physical rewards will keep the entire situation positive for all.
Final Thoughts
While I never thought I would be in this situation, I have learned how to thrive. Moms have the innate ability to adjust to any situation they are faced with.
If you follow these 5 simple tips, you can learn that working at home with kids doesn't actually have to feel like an oxymoron afterall.
If you found this helpful, share it and follow us on Facebook for more up to date discussions on family.
Check out some other posts on working mom life: