Strong-Willed Kids need their parents to stop believing these common myths – and start supporting them in a new way.
My daughter was a little "extra" from the moment she was born.
Friendly and sweet, but a whole lot of sass. I use the term "sass" to keep the atmosphere light, when in reality her behavior was more draining. Even, dare I say, tormenting – hopefully without sounding like a terrible mother.
As the years passed, I consulted anyone I could about raising a strong-willed kid. I talked to the pediatrician, mom friends, and even the cashier at Target. Every article, blog, and forum I could get my hands on I studied. I tirelessly read helpful posts like 10 Signs you are Raising a Strong Willed Kid, Tips for Peacefully Parenting Strong-Willed Kids, and more.
One stunning realization came out of all of this research and experience:
We have it all wrong.
All of the stereotypes and generalizations about raising strong-willed kids are wrong (most of the time at least).
The Convoluted Truth About Strong-Willed Kids
To advocate for the misunderstood strong-willed kids out there, it is important to understand these common five myths. If we want to successfully parent our high-spirited kids – teach them right from wrong WITHOUT breaking their spirit, we have to end the stigma and eliminate these old schools of thought.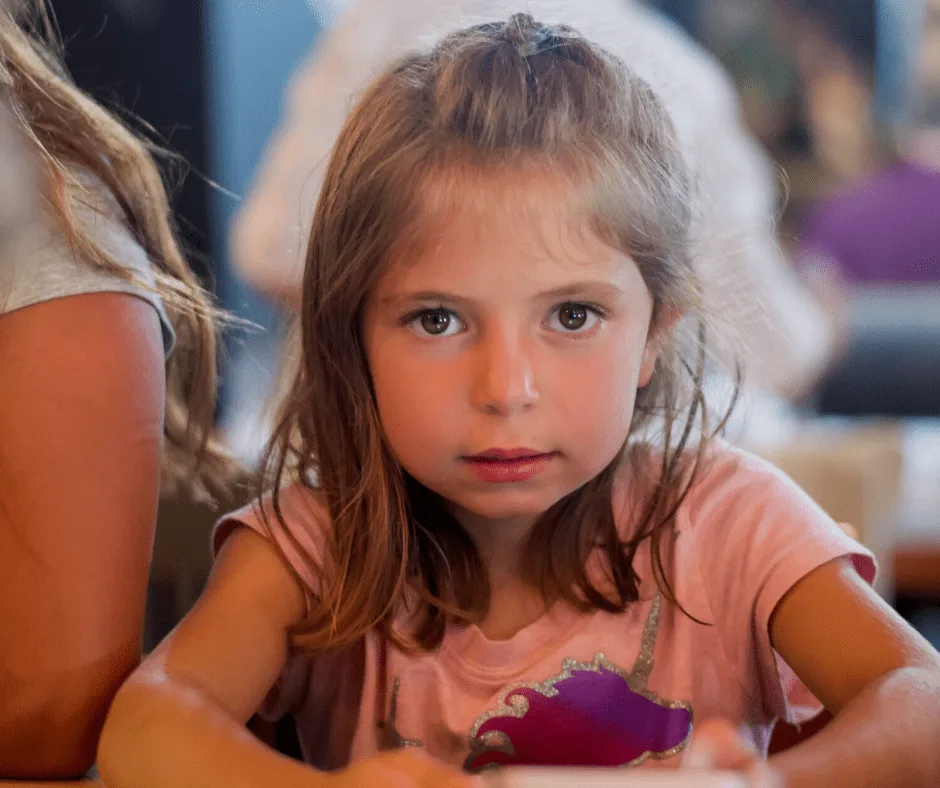 Myth #1: Strong-willed Kids have Thick Skin
Strong-willed kids often carry the reputation of having thick skin. In reality, they are typically very sensitive souls. They are acutely aware of changes in their environment, have soft hearts, and equally exaggerated emotional responses.
I found my daughter crying in her room after she battled with my son about which seat they would sit at for dinner. Although she looked like a dominating figure during that brawl over the corner chair, she expressed to me after that her feelings were hurt. She felt like he didn't care how much she wanted that chair.
Strong-willed kids appear "tough" when they are demanding things to be done a certain way, but often their sharp exterior layer is only covering up muddled feelings and stressed thoughts.
Learn How to Give Your Kids the Tools to Calm Down on Their Own.
Myth #2: Strong-willed Kids are Stubborn
In developmental psychology, the personality that a child is born with is called temperament. Psychologists have recently identified "strong-willed" or exuberant as a personality temperament.
These children are often described as "stubborn". Strong-willed, and strong-minded kids won't act like other children because their brain works differently. When you understand this is the way their inner clock ticks, you can connect with your child.
Learn How to Peacefully Discipline Your Strong Willed Kid.
Myth #3: Strong-willed Kids want to Control You
"Your daughter will be president someday."
I hear this phrase often. Many people assume that strong-willed children need to control those around them. While strong-willed children are more likely to be successful, the need for control isn't directed to other people.
Strong-willed kids don't want to control YOU. They want to control situations. There is a difference
They value predictability and will work hard to feel secure in a situation.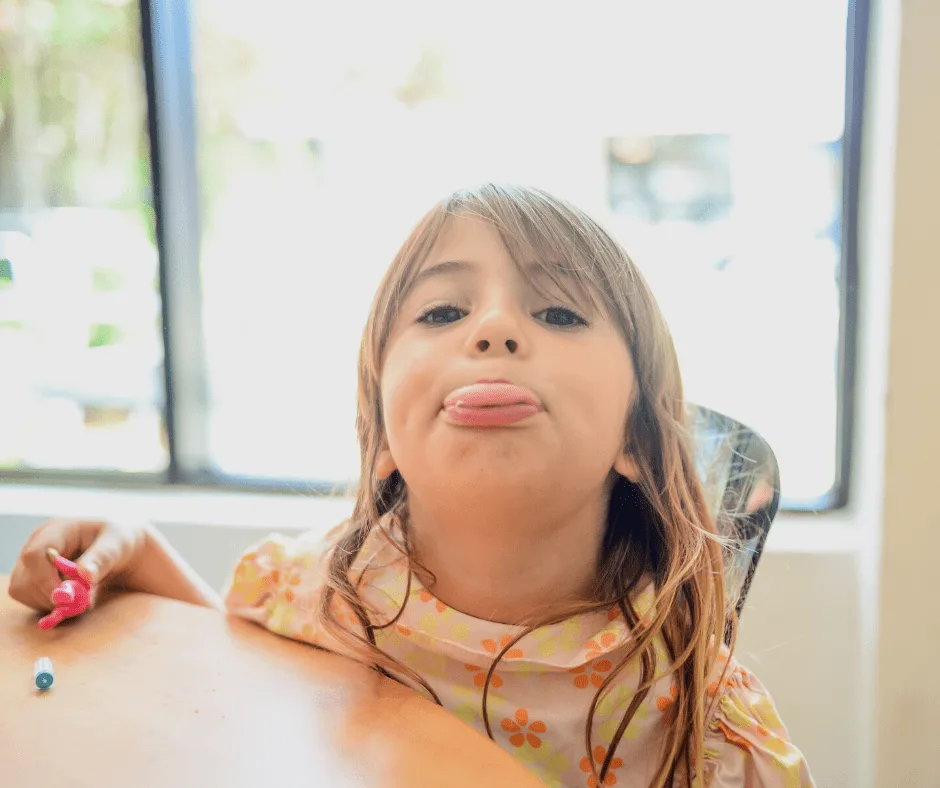 Myth #4: The "Two Option" Hack Will Avoid Fights
When I first approached our pediatrician about my daughter, she replied, "You are in control, give her two options and allow her to pick."
While I do feel like that sounds like great advice, I will be honest: it did not work once.
I'd ask her, " do you want to wear the pink pants or the black pants to school?", And she would reply "Neither. I will only wear pants with blue flowers today."
My husband and I tried one option, two options, twenty and more. I have tried all the hacks for avoiding battles with strong-willed kids, and they all failed.
Strong-willed children are intelligent. They know what they want, and they cannot be tricked out of their headstrong mindset.
You may also like: How to Support Your Clingy Toddler or Kid
Myth #5: It is a Discipline Problem
When children act out, bystanders often point fingers at the parents.
I have raised three kids. One strong-willed child and two of the sweetest, go-with-the-flow children. Nature, vs. nurture, plays a big part in the temperament of a child.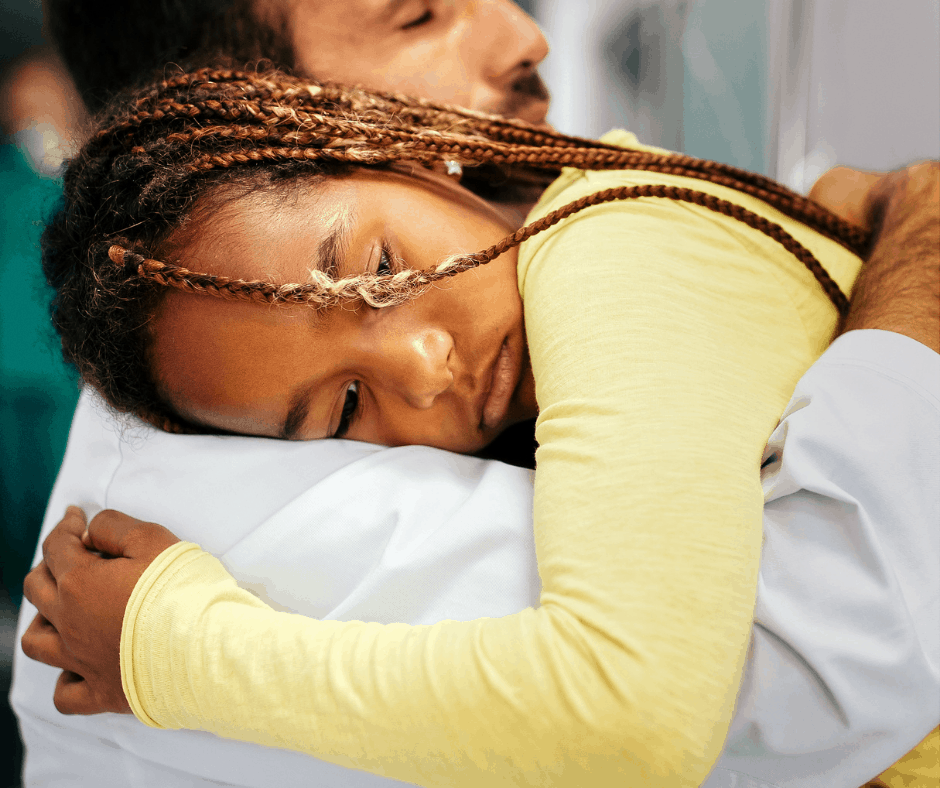 Myth #6: There is Nothing You Can do About it
Strong-willed kids are typically seen as confident, high-spirited creatures. Although there are great characteristics of headstrong kids, there are also things that should be monitored.
These children are sensitive, deep thinkers. It is no surprise that strong-willed children may also have other conditions – such as Attention-Deficient/Hyperactivity Disorder (ADHD).
As it turned out, a big part of my daughter's defiance and control-issues were tied to underlying anxiety, which really only showed it's ugly head as she got older.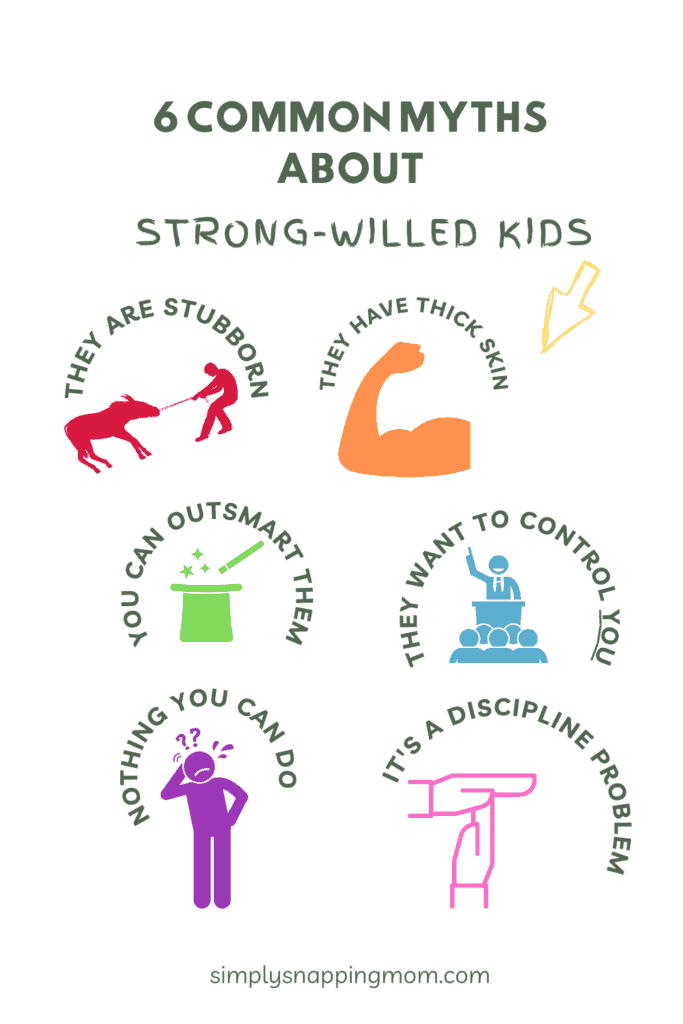 How CAN You Parent Strong-Willed Kids?
Once you abolish these myths, you will have a better understanding of what your kid needs from you. Keep these simple tips in mind as you guide your child through life in a positive way:
View their skills in a positive way. They are:

Leaders, not bossy
Independent, not defiant
Persistent, not stubborn

Encourage them to explore. Strong-willed kids thrive on adventures and learning new things

Go on hikes
Introduce new books
Encourage them to be social

Model silliness, and play games
Teach self regulation techniques (click here for free printable Calm Down Cards)
If something doesn't feel right, reach out to the pediatrician (and push the subject if needed!)
If you found this helpful, share it and follow Simply Rooted Family on Facebook for more ways to raise kids who are healthy at home and strong in the world.