Be your own biggest fan.
I can't say I came up with this idea on my own.
I was sitting in the lobby at my daughter's gymnastics studio and heard another child say to her mom, "I will never be good at gymnastics."
The mother, in a very dramatic way, dropped to her daughter's level and gently held her shoulders. She said, "Don't talk to about yourself like that. What do I always tell you: you have to be your own biggest fan."
Be your own biggest fan.
I let that wash over me and instantly fell in love with that life lesson.
We are all constantly being judged by our own little internal critic, and the earlier kids learn to tell that little voice to shove it, the happier and more confident they will be.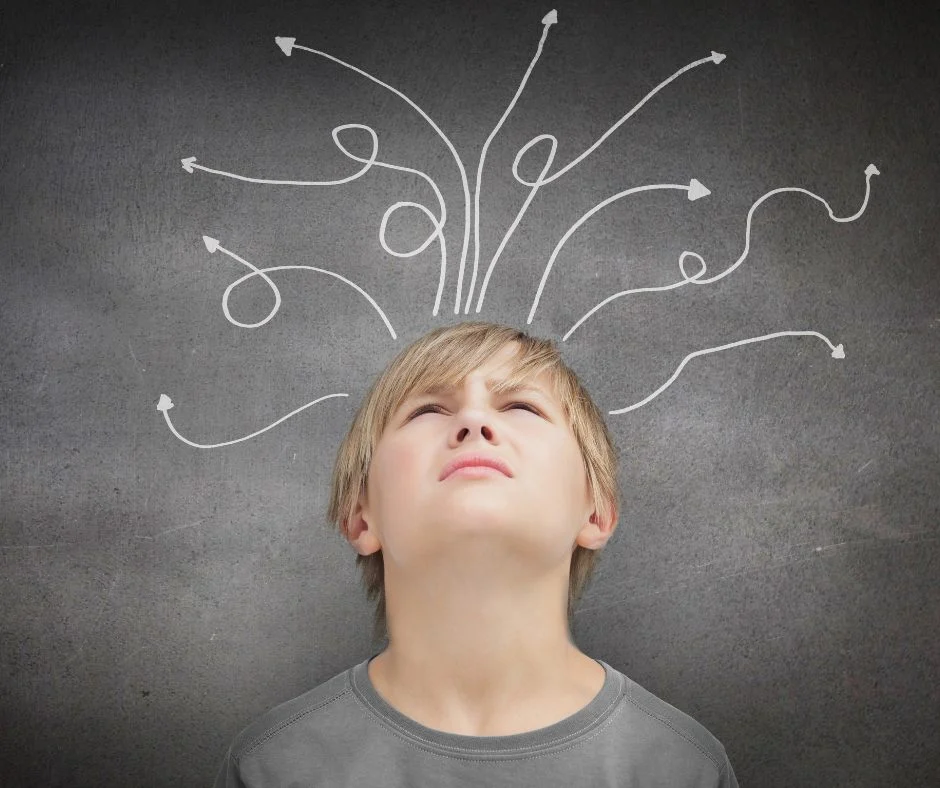 Related: 5 Questions that Make Kids Feel Valued
Teaching Kids about Their Internal Critic
We all have two voices in our head.
No, not multiple personalities. (It's important that kids understand this is a silly way to understand what they are thinking about.)
Depending on your child's' age, you can explain the internal critic in a way they would understand.
First, we have a best friend voice. Depending on your kid's age, you can refer to it any way you'd life. You can think of it as a sweet animal (maybe a bird), or give it a name. Let's call it Beau the Bird, for example.
Can you think of a time when you thought, "wow I did a great job on that!" or "my art project looks really pretty": That is Beau the Bird talking.
Unfortunately, we also all have a critical voice. Let's call it Rose the Rat. This is the voice that may be saying things like, "There is no way you can do that" or "Nothing you do is right" or "Nobody seems to like you."
Simply put, kids and adults alike can train their brain to kindly tell Rose the Rat to hit the road.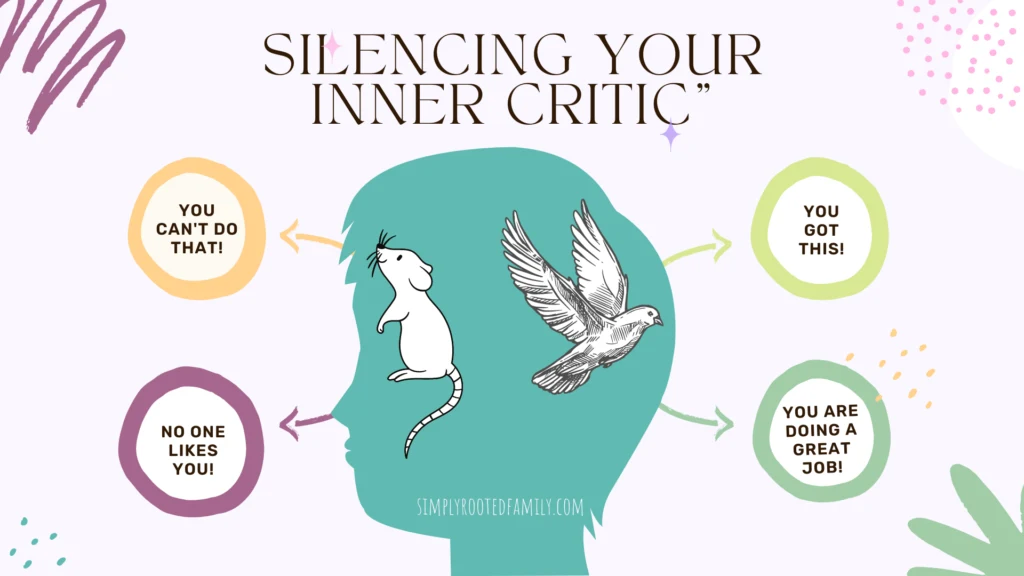 Related: How to Raise Kids who are Not Narcissists
How You Answer These "Voices" Matters
We already established that sometimes are brain or inner voice is kind (like Beau the Bird), and sometimes it can be a bully (like Rose the Rat).
How we answer these "voices" makes all the difference.
These three steps will help you guide your child through understanding what is going on in their mind:
Step One: Help Them Verbalize Their Feelings
Is Rose the Rat telling them they aren't good enough? Or is Beau the Bird cheering them on?
Tell your child to pay attention to how they feel, and encourage them to verbalize it.
You can do this by asking simple, open-ended questions like:
Explain to me how you feel about this?
What are the "voices" saying in your head?
These "voices" are our thought processes, and it's important to slow down and listen.
Learn other ways to hardwire kids for happiness here.
Step Two: Validate Their Feelings
Secondly, as parents, we must remember that how your child feels is not wrong.
You may want to start our with a harsh "that doesn't make sense!" or "stop thinking like that."
Although we mean well when we say these things to our kids, it isn't going to help them understand and work through their emotions.
When you reply with "okay, so you feel that you will never be good at soccer…", you are validating how they feel and helping them slow down and talk about it more. Essentially, you are building their emotional intelligence.
Also, try these Mindfulness Activities with Your Kids and Teens.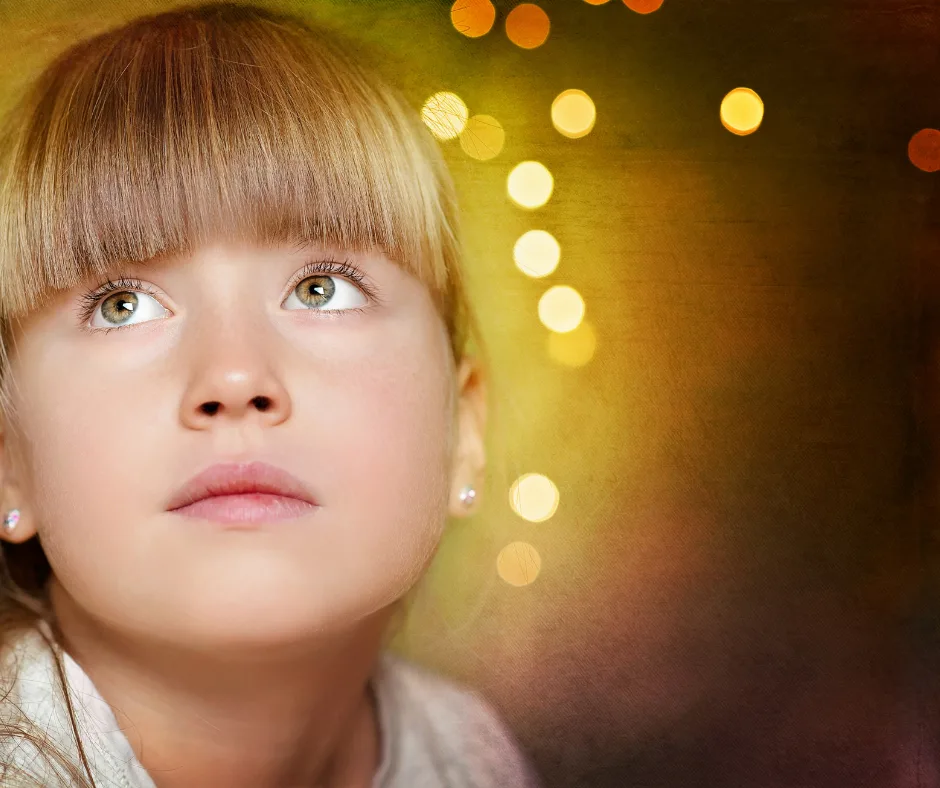 Related: Teach Kids about Spirituality with these 5 Activities
Step Three: Be Your Own Biggest Fan Lesson
Now that your child has taken a moment to understand how they feel and what the "critic" is saying in their head, you can encourage them to take control of their own thought process.
Tell your child to talk back to "Rose the Rat" (or however they chose to describe the critical voice).
For example, if it is telling them they are not going to do well in school – answer back with "I studied hard and I am smart, so I will succeed!"
Or if it is telling them they will never be able to score a goal at soccer- answer back with "I am a hard worker and I will try my best".
You may also like: How to be Your Kid's Emotion Coach
What Does it Mean to Be Your Own Biggest Fan?
Being your own biggest fan is a mindset.
More specifically, it is a growth mindset.
A growth mindset means that you thrive on challenge. In other words, you don't see failure as a dead end, but as a stepping stone as you grow.
Once you establish this "inner critic" and super simple three step process, you can simply remind your child "Be your own biggest fan" anytime you see them struggling or being hard on themself.
You can't always count on others to cheer you on. Sometimes you have to step up, tell that critical voice to back off, and cheer yourself on with our all your heart.
Related: How to Raise Kids with Growth Mindset, Instead of "Poor Me" One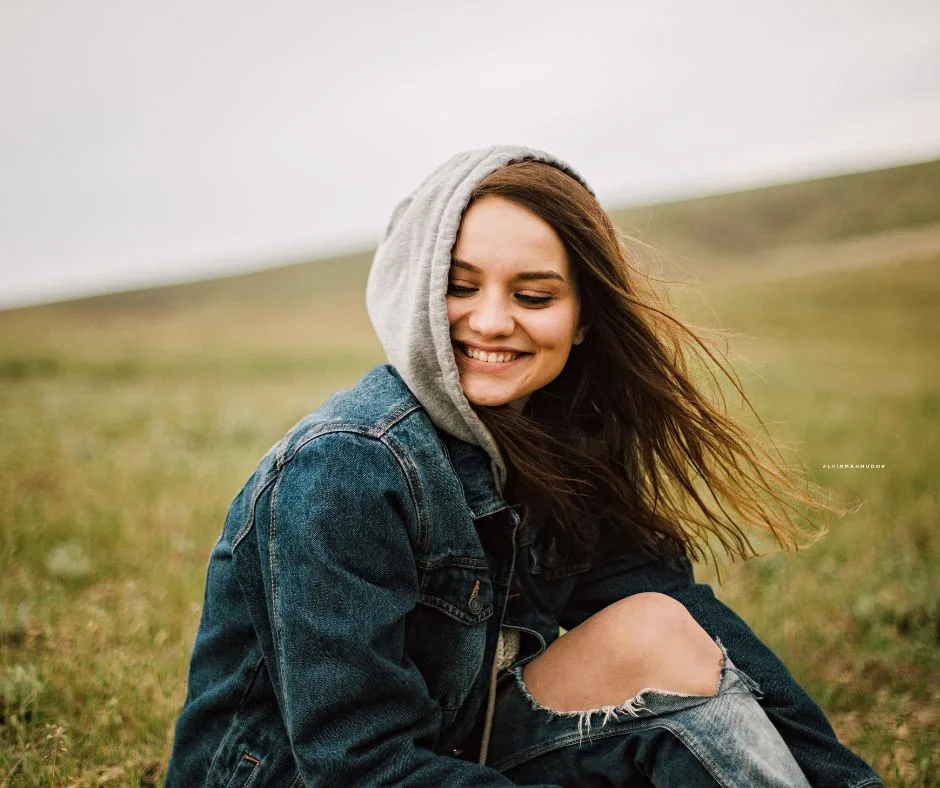 Looking for Confidence Quotes for Kids? Start here!
Final Thoughts on How to Be Your Own Biggest Fan
Since I think some of the best lessons come from young children, I asked my 9 year old daughter what she thinks about when she has negative voices in her head.
She explained that she tells herself: You were born at the right time and in the right place. You are meant to be here and you are amazing.
There will always be external critics in life. Those who don't think you can succeed, and those who don't want you to succeed. There is no room in our lives for an internal critic, too.
If you found this helpful and want more tips on raising kids who are healthy at home and strong in the world, follow us on Facebook.
Introduce kids to these self love journal prompts, too!