Senior picture options have changed significantly in the last few years. They have moved from those dark (and creepy if you ask me) studio sessions to fun outdoor photo shoots.
From wearing gowns and suits, to casual attire picked out by the student. And from awkwardly formal studio sessions to casual celebrations of the students personality. My point here is- when it comes to senior pictures, anything is fair game now.
The creative outcome of the photo session is fully up to the photographer and the subject!
Forget about those old big-haired, black dress or suit, cheesy blue backdrop senior photos we all still giggle at, you have the flexibility to basically do whatever you want!
You CAN do this yourself! Note: it is not a prerequisite, but it will help immensely if you understand your camera settings. Check out my 'photography basics' posts on ISO, aperture, and shutter speed for an easy to understand tutorial.
With a few easy tips, you can avoid the senior photo debt (some sessions are upward towards a thousand a session) and do this on your own.
You got this! You will see how affordable this can be too. All you need is:
The great outdoors (free)
The right camera gear (spoiler: if you have a DSLR you are basically set!)
Props to reflect their personality (you should already have).
A Senior (free)
SEE?
Let's jump into where to start!
Location is Key
It is not a requirement that senior sessions are outside, but I highly recommend it. You have so many different natural 'backdrops' to pick from. Find a location with more of a nature feel (field or barn) or more industrial (old buildings).
I found a rustic barn, and the old wood creates the most beautiful backdrops.
Looking for party invitation ideas? Check out these free printable graduation invitations.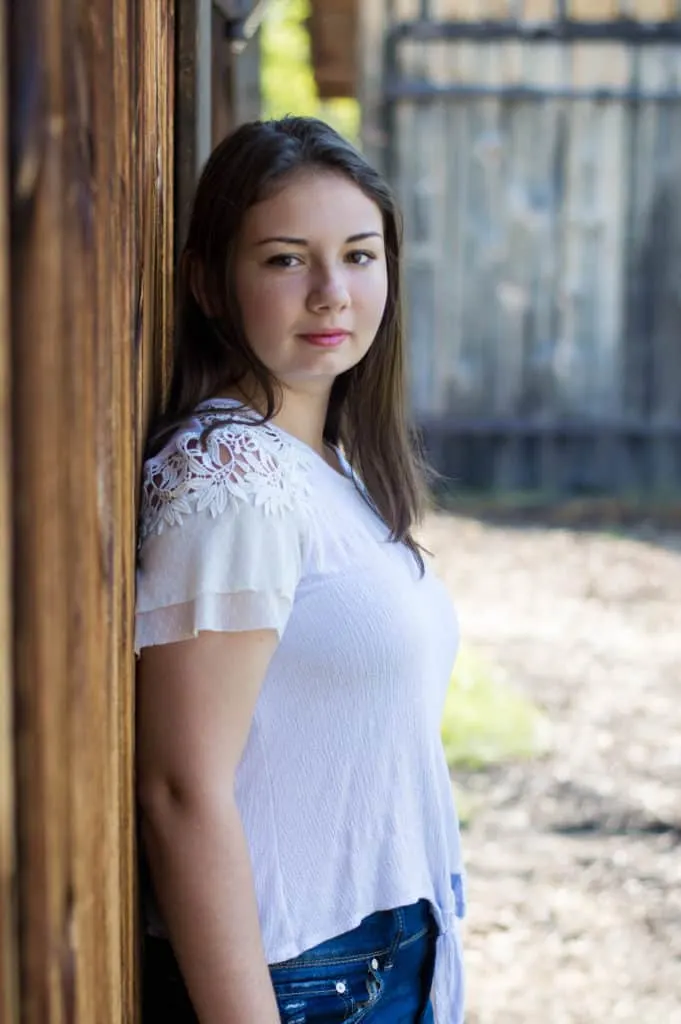 No matter what area you find, I would locate a shady spot for pictures or take them in the evening. Shade/low-light allows for more opportunity to use a shallow depth of field (think aperture – it lets in more light so you want shade!) By avoiding direct sun, you will also avoid squinting and dark shadows, which can be ridiculously distracting!
Camera Gear
I recommend that you don't try doing a senior session unless you have a DSLR camera.
However there are many options out there! A DSLR camera is really the only way to get clear, crisp pictures with great exposure and color.
Don't miss these complete, beginner-focused photography tutorials.
You can absolutely use whatever lens you are comfortable with, but in my opinion, a 50 mm lens is a MUST. I am honestly in-love with my 50 mm lens. I take ~98% of my photos with it. It is fantastic for portraits, great in low light, and gives you great depth of field (blurry background). If you don't have one and you take portraits, you are missing out.
I always wondered what was missing from my photographs until a friend introduced me to my Nikon AF FX NIKKOR 50mm f/1.8D Lens for Nikon DSLR Cameras. The minute I opened the box, it was love at first site. Take some of that money you had reserved for a studio sitting fee and purchase one! My pictures all had creamy backgrounds and sharp focal points. Alright… enough about my lens love affair. But if you are in the market for a new lens or looking to step it up a notch check out one of these affordable 50 mm lenses.
Props to Display their Personality
The options are limitless! Does the subject like sports? Do they play an instrument? Do they have a favorite pet to include? I have seen it all! You can incorporate their 'props' in any creative way you want to! I have seen cute images of girls in dresses and heels holding a soccer ball. You really want to let them highlight their personality.
For a recent senior session I did, we threw in a childhood picture. I used aperture settings to highlight the childhood picture by focusing on the picture and used my aperture settings to give the background a blurry effect. A fun way to use creative photography to individualize the photo shoot.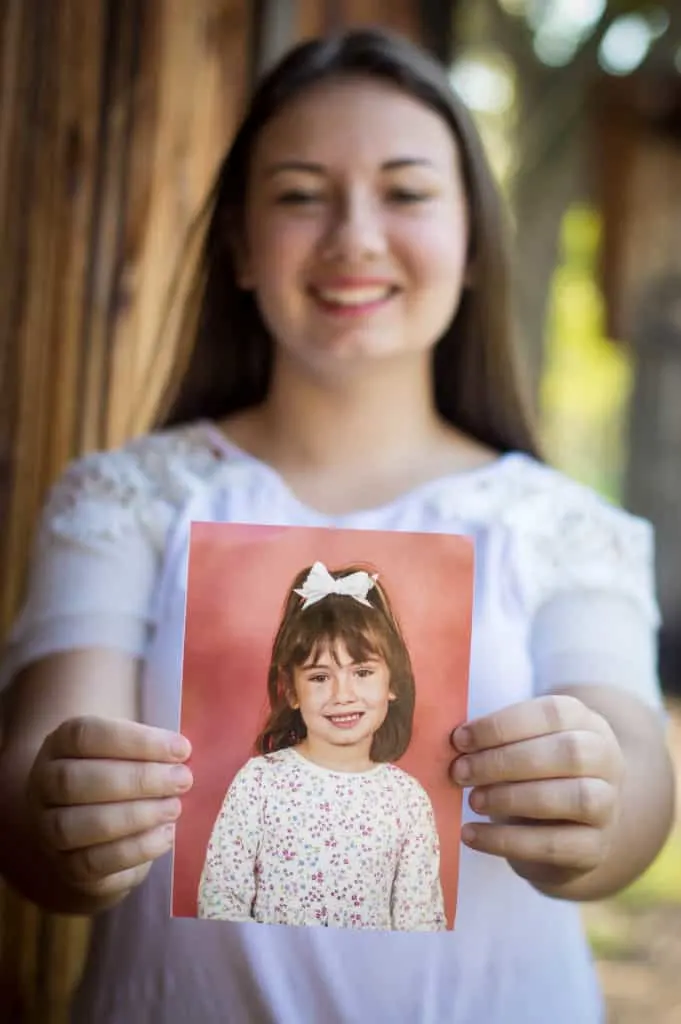 Posing Tips
Typically I am trying to photograph three uncooperative kids under the age of 7. I have to remind myself that when I am photographing older kids or adults I can drop the "if you smile you will get candy" bribes and the jumping around like a crazy person yelling "poopy" to get them to sit still and look up for 20 seconds. Be relaxed and your subject will relax too!
Encourage your subject to sit in naturally, in comfortable positions and then take time to observe and adjust as needed. Make sure their hair is out of their eyes, their shoulders are back, and their arms and legs look natural.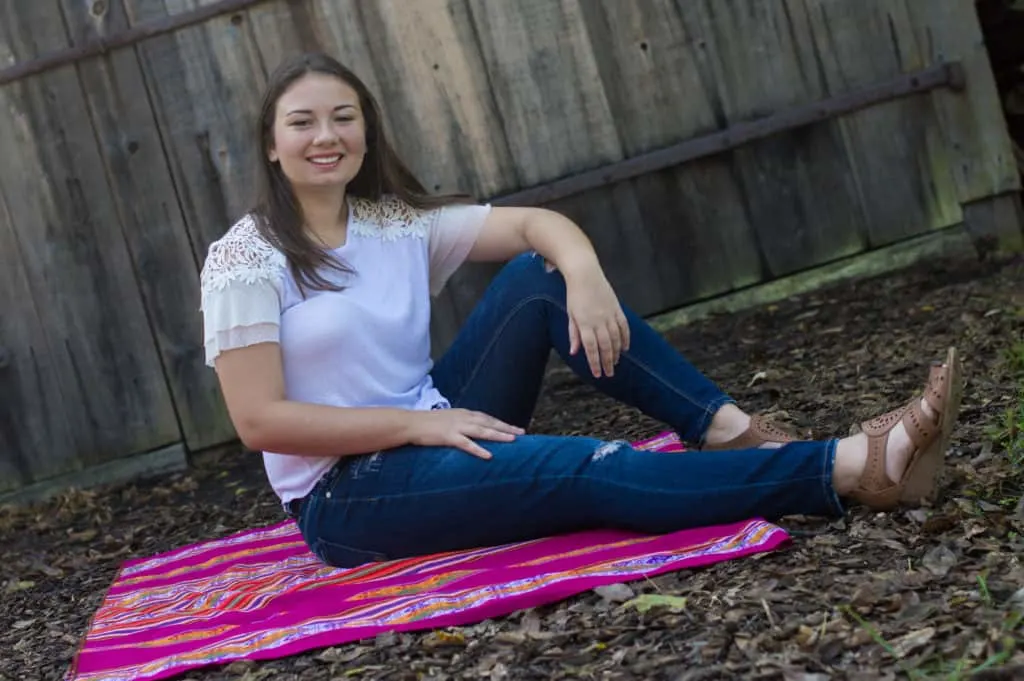 Lastly, throw in some serious ones with those smiles!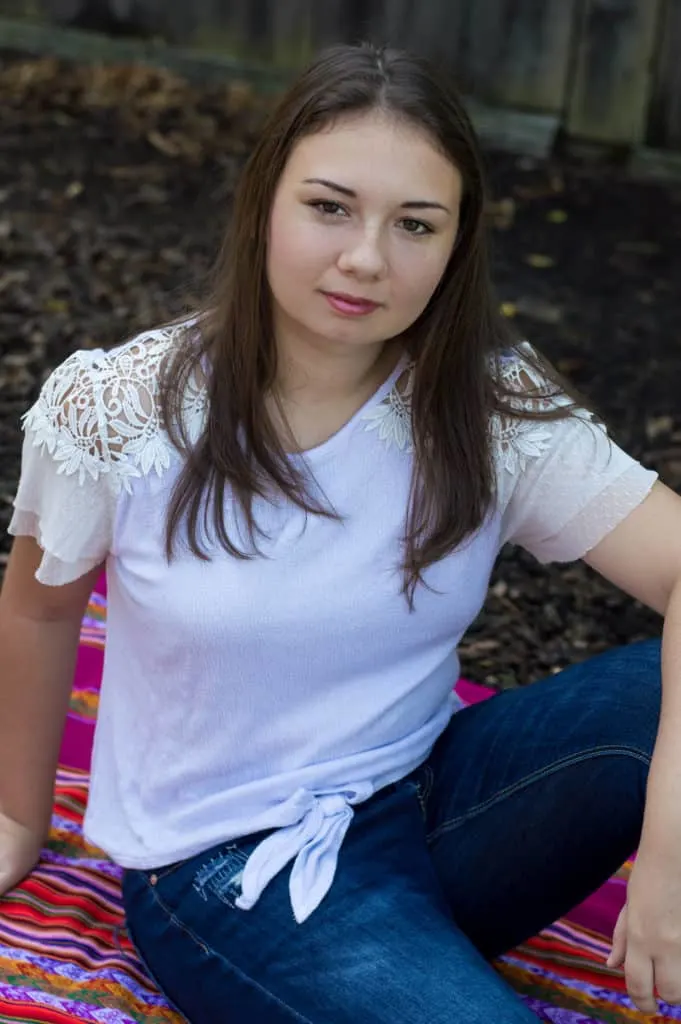 Commence the DIY Photo Shoots
Thanks to the shift in senior sessions from old, dark studios to the bright, bold world, you have all the opportunity at your shutter finger! If you choose a natural backdrop and highlight the students personality then you can do no wrong!
Also, who wouldn't love a fuller wallet.
If you found this helpful, share it!