I have asked myself time and time again:
As a working mom, is it possible to have my cake and eat it too?
Are we able to enjoy both having a successful career and a happy family life? Is work-life balance achievable?
Overtime, I have learned that this seemingly mythical balance is in your own mind. Once you learn to overcome your challenges, you can achieve a balance in life.
Your goal should be to thrive as a working mom, instead of only survive as one.
Working Mom Challenges are the Real Deal
After having children, some mothers enthusiastically return to a job they love, while others drag their feet back to work just to make ends meet. Many of us, most likely, reside somewhere in the middle. Regardless of the reason, one thing is for sure; being a working mom is challenging.
As if juggling household duties, parenting, and job responsibilities wasn't enough, many working mom's carry a heavy burden of mom-guilt that they just can't shake.
A group of working moms were polled, and surprisingly they shared a lot of similar challenges, including difficulty balancing work and life, missing children, and struggling with mom guilt.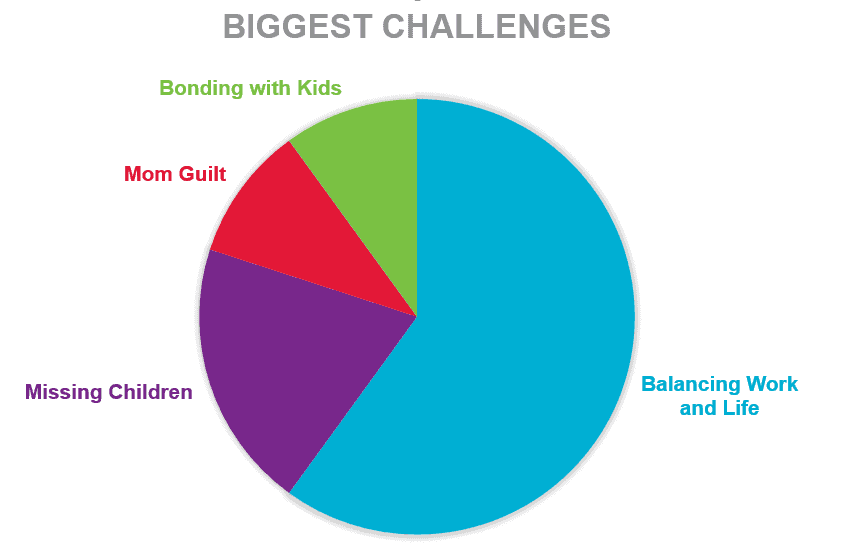 You may feel alone as you struggle to overcome these challenges, when in fact you are in good company.
We need to learn to do more than just "cope" with our struggles. We need to learn how to overcome them and thrive. We are powerful women, doing the unthinkable as we support our family financially and emotionally.
A group of 11 working moms were interviewed regarding their biggest challenges and how they overcome them to thrive.
1) Trying to Balance Everything
Minda is a Pharmacist and Blogger. Her blog Cents and Family focuses on Making family life and finances easier, effective and efficient . Check out her post on 12 Childcare Options for the Working Mom.
How she overcomes this challenge:
The first thing I did was come up with an evening routine for my family and I. It took some time for my husband to get used to the routine, but he eventually got it. The evening schedule worked well for my kids as they thrive for routine. The me time is great. I used the time to work on our finances, watch shows, get some exercise in and to spend time with my husband. I am in bed the same time most nights. The results were amazing. After one week, I felt a difference. I drank less coffee (just one cup in the morning), I yelled less at my kids, and I got more productive as more things got done. I felt better mentally and physically and I treated my family better. Having a routine helped my balance everything – basically by making time for each activity.
I lowered my expectations that everything has to be clean and organized. So what if our home is a bit messy?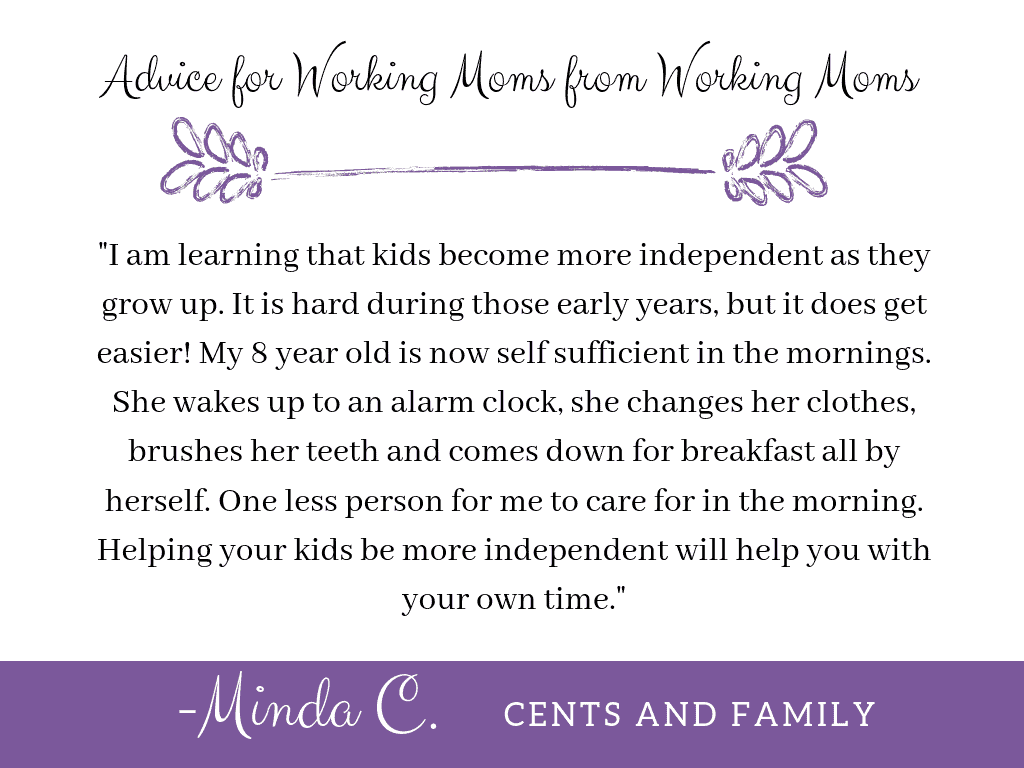 2) Bonding During the Work Week
Jenn Dobert is a health copywriter and content writer. Her blog JennDobert.com has easy-to-read health and wellness tips for women. Check out her post 5 Steps to Maximize Bonding Throughout The Work Week
How she overcomes this challenge:
The time to squeeze in bonding is just so limited, but you can make it work. In order to cope I had to switch my focus from quantity of time to quality of the time spent together. Once I truly wrapped my head around it, my perspective of how I was spending my time started to change. I began to prioritize my time and tasks away from my child in order to create more focused time with him. Over time, I started to see a huge benefit and a closer connection between us. He used to cry when I would pick him up from the sitter because he didn't want to leave them. Now when I pick him up he gives his sitters a hug, tells them "bye-bye" and runs happily to me ready to go. Knowing that my child enjoys his day yet still looks forward to our time together has helped me to cope. This came from creating a routine based on focused quality time.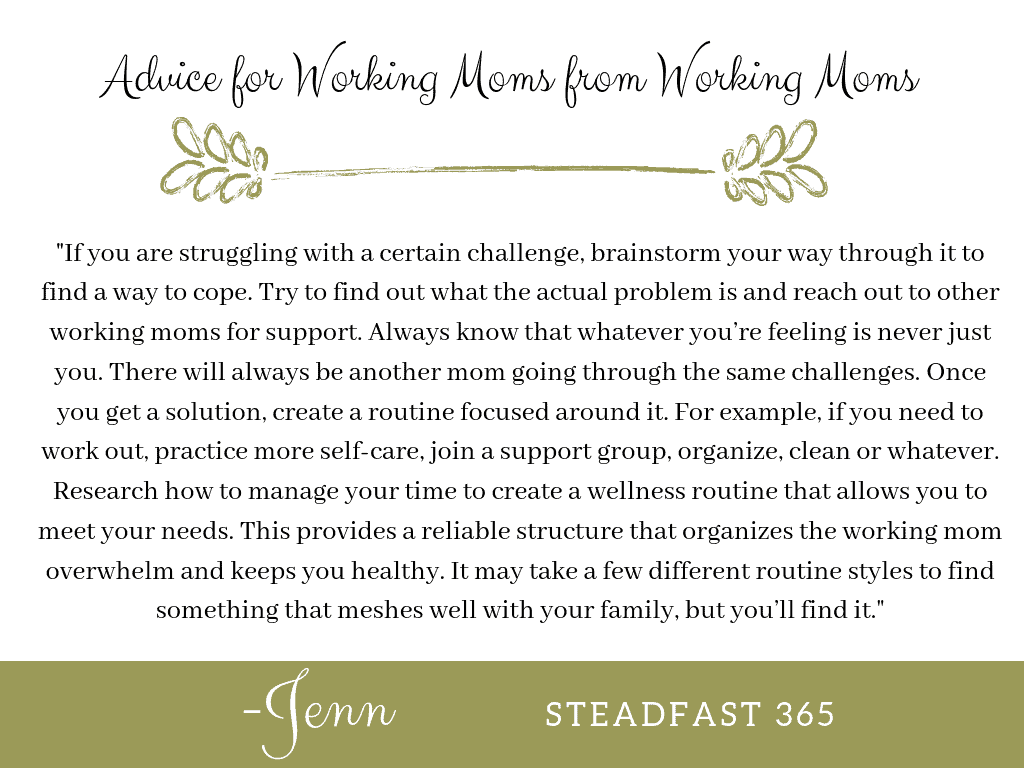 3) Fear of Missing Out
Sarah B. is a Respiratory Therapist and Mommy Blogger. Her blog Raise Them Wild focuses on everything motherhood! It also has a large fitness component, She shares a lot of quick nap time workouts that mamas can do in the comfort of their home during nap time. Check out her post on The Working Mom's Guide to Pumping at Work here.
How she overcomes this challenge:
To overcome this obstacle, completely unplug when you get home and spend quality time with your family.
Make the most out of the quality time you spend together.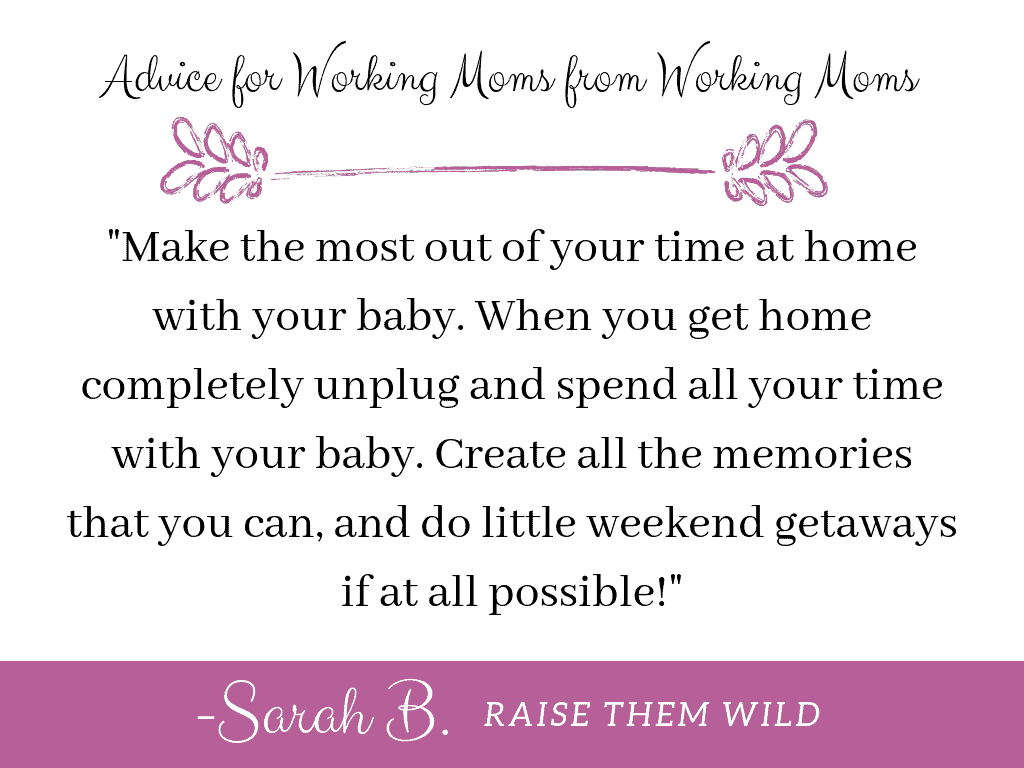 4) Trying to Juggle Everything in Life
LC is a Corporate Attorney and Blogger. Her blog The Single Mom Journey is a site for single moms to find community and solidarity when facing the challenges of single motherhood. My mission is to help single moms WIN at parenting, dating, money matters and career goals while pursuing an abundant and authentic life on their terms! Check out her post: The Truth About Working Mom Guilt That Will Change Your LIfe!
How she overcomes this challenge:
I combat this challenge by focusing on what's right in front of me.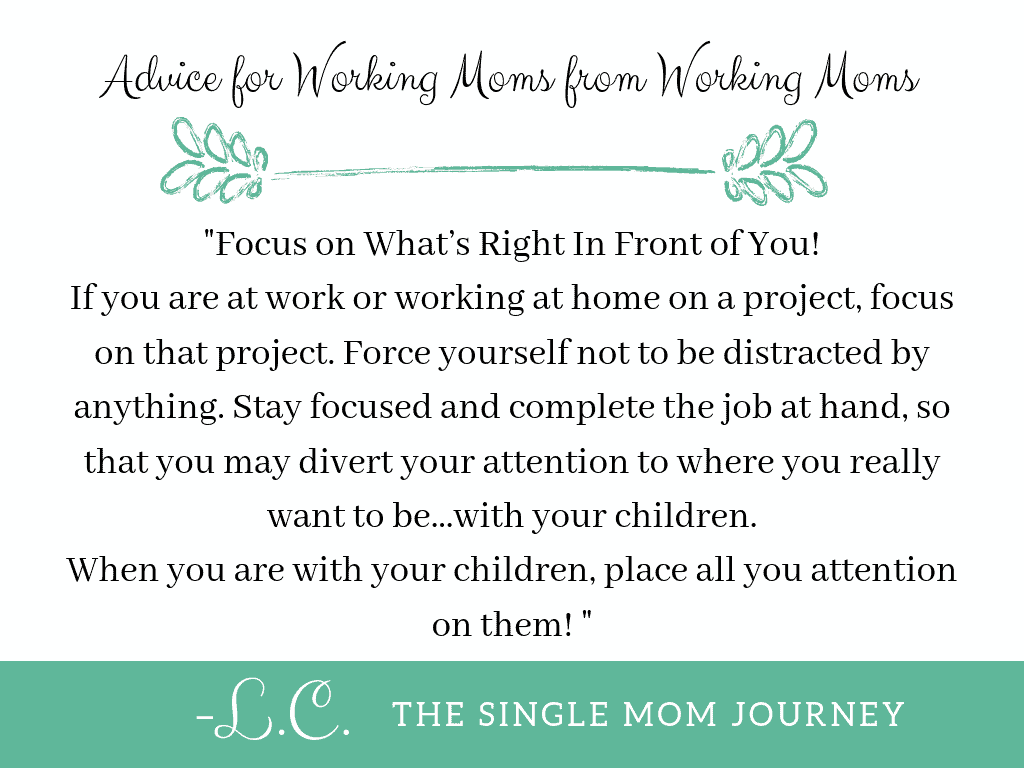 5) Keeping up with housework
Jeanne V. is a Senior Process Engineer and Blogger. In her blog Have Twins First she shares baby registry, sleeping, and feeding tips for babies, toddlers, and twins. Check out her post on Pumping at Work Schedule.
How she overcomes this challenge:
I try to accomplish a task when I get home from work. If I put it off until after the kids are in bed, I end up not doing it because I'm too tired.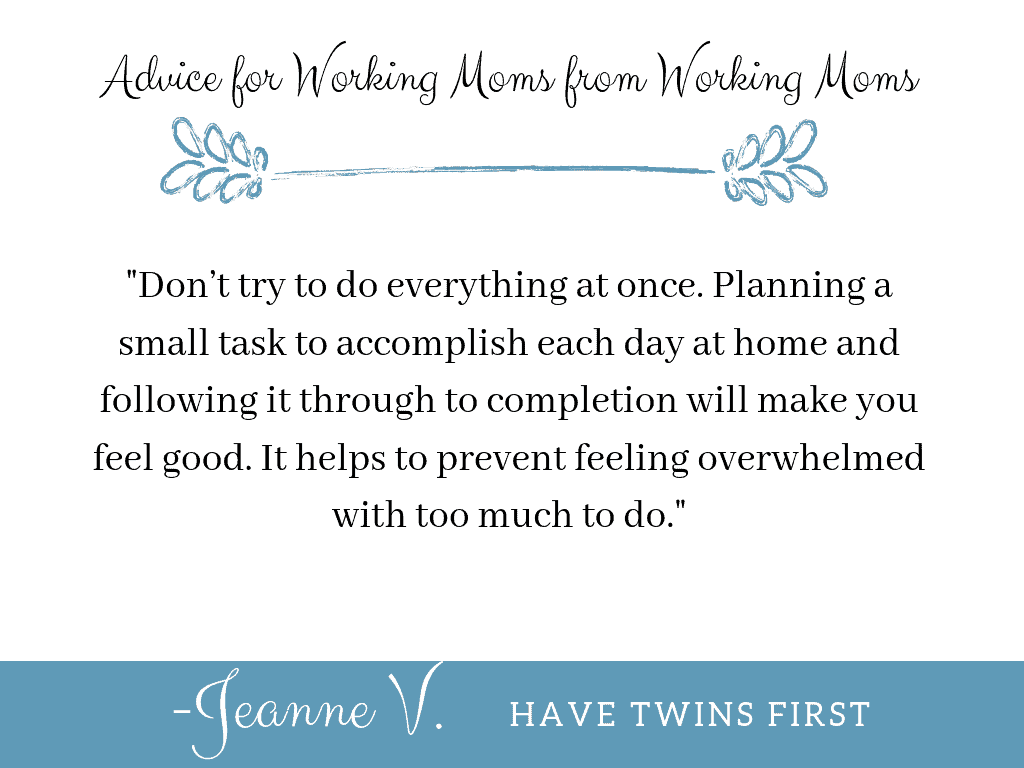 6) Dealing with High Expectations
Tish is a Licensed Vet Tech and Blogger. Her Blog Babies & Fur House focuses on helping women raise children and pets.
How she overcomes this challenge:
I focus on work while I'm at work, and my child when I'm with him. The house comes together when I can make a game of it. One day a week we clean specific rooms. Then, we do laundry and vacuum on the weekends. It's worked out so far. I refuse to let people make me think that I'm not as good a mother because I won't stop working and be a stay-at-home mom.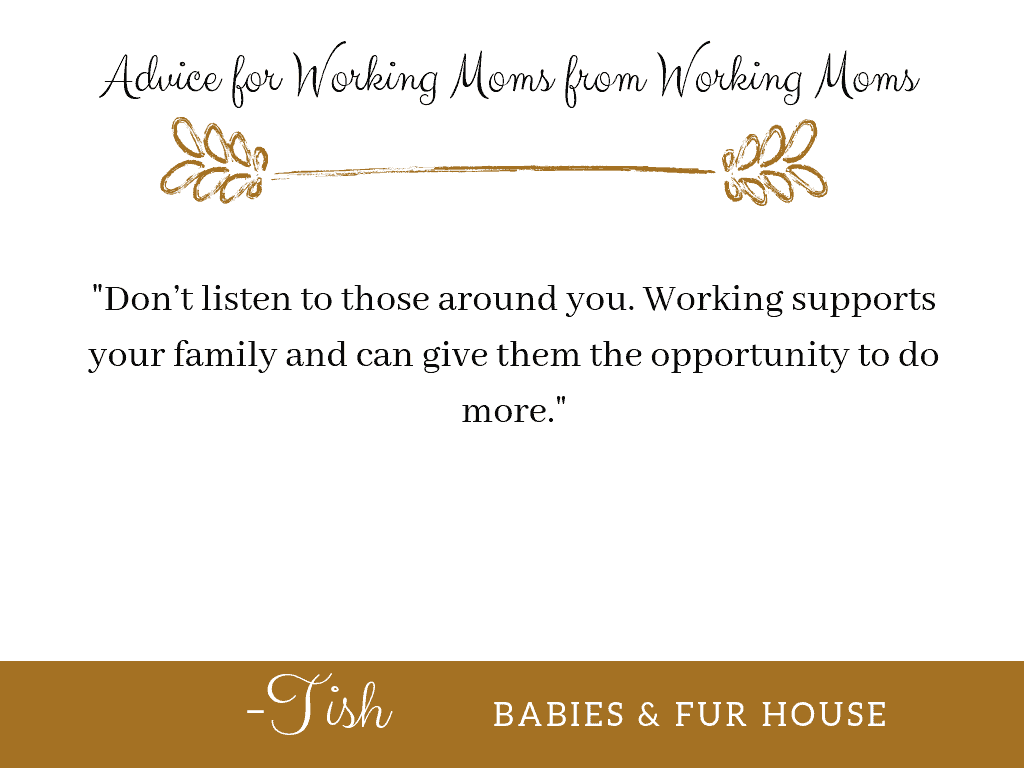 ______________________
7) Battling Working Mom Guilt
Renee is a Pharmacist and Blogger. Her blog Simply Snapping Mom focuses on simplifying parenthood and photography. Check out her post on 5 Working Mom Guilts to Abandon.
How she overcomes this challenge:
At that time, I realized that these "working mom guilts" were not productive. My kids loved daycare and we have amazing relationships. I remind myself daily that my kids are happy and I am doing a good job.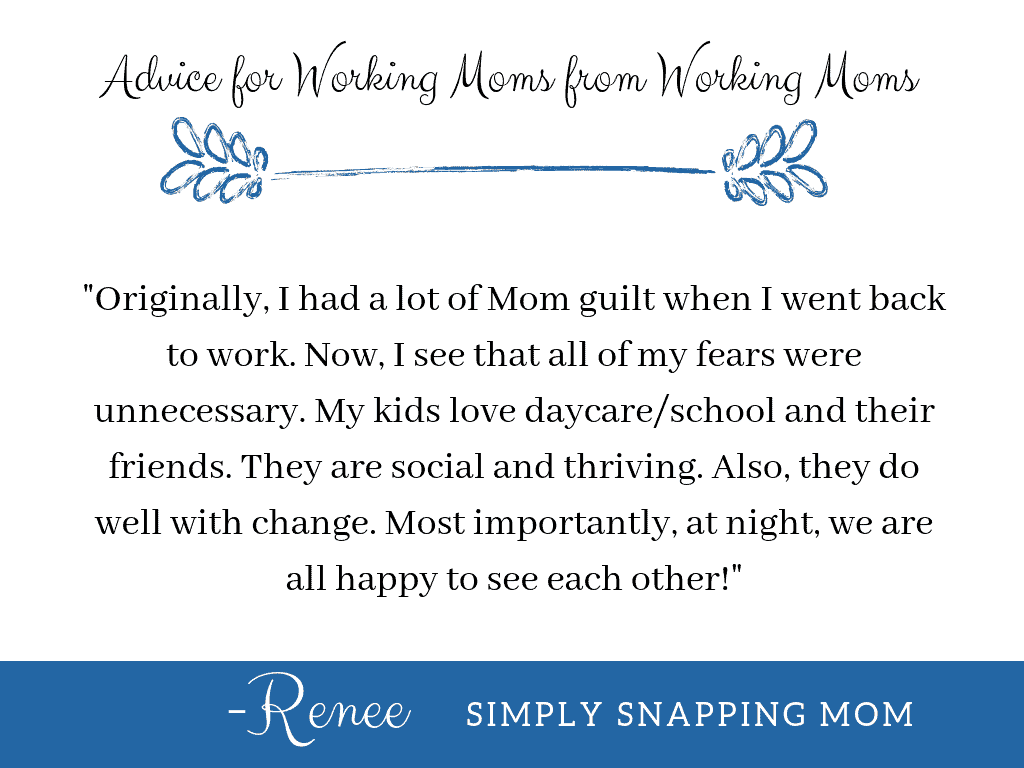 8) Breastfeeding at Work
Kathleen is a Accounts Manager at a digital marketing agency and Blogger. Her blog Life By Kathleen focuses on making progress through saving time, saving money, along with better or different ways to do things. Check out her post Musings of a Super Mum here!
How she overcomes this challenge:
I was a bookkeeper at another company when I returned to work after maternity leave and honestly didn't know my rights when it came to using my breast pump at work. So when the time came, I just pulled out my pump, put a muslin wrap over myself like a reverse cape and pumped. I became really good at typing with one hand because I didn't have a pumping bra and needed to hold the bottle/flange up. During this time I had to visit clients at their office and never had an issue.
Additionally, I went to bed a bit earlier to counteract losing some sleep for this.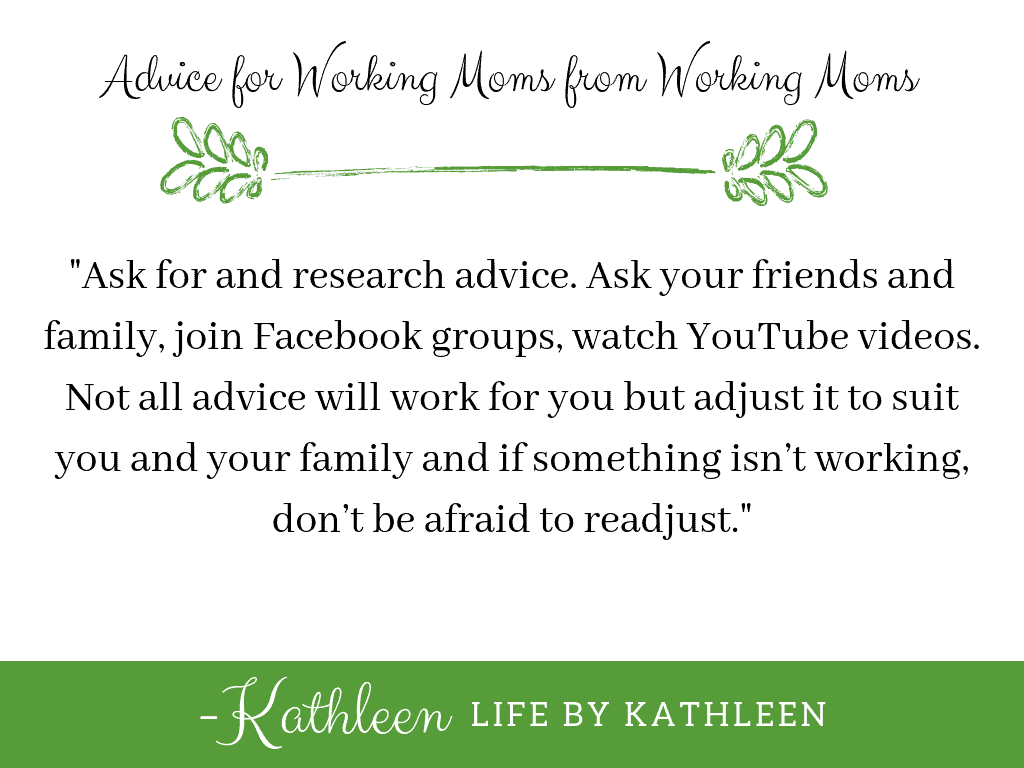 9) Isolation and Feeling Alone
Josielyn is a Customer Success Engineer, full time college student, and a blogger. Her blog Como Mi Madre which focuses on Trying to balance being a mom while working at the same time from a Latinx perspective. By that I mean, I reference things I experienced growing up that I know is very prevalent in Latinx cultures, like moms not being able to talk about mental health, depression, etc. Check out her post on 5 Reasons to Love Daycare.
How she overcomes this challenge:
I had to be okay with letting people know I was busy and sometimes I couldn't make plans. For example, if a friend would ask me to have dinner, I always say, "let me check my schedule". I used to feel bad about having to say this, and now I don't because I have come to the conclusion that most people don't have the life I live; therefore, they will not understand my boundaries and that is perfectly okay.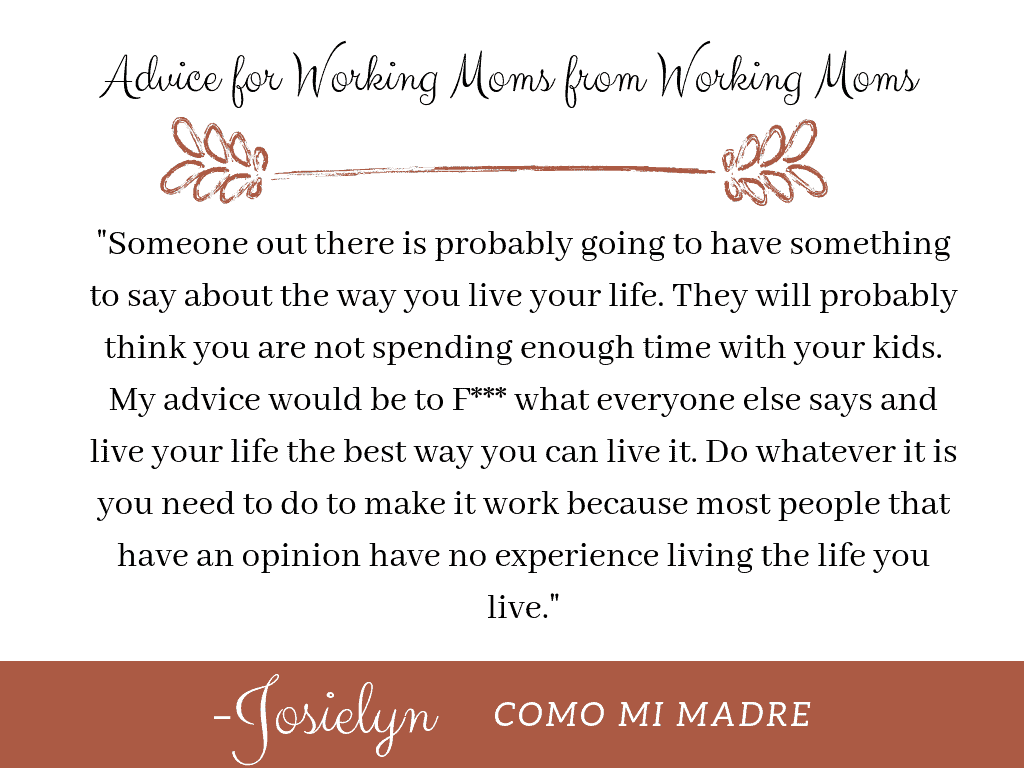 10) Missing my Kids
Samara is a VA specializing in SEO and blogger. Her blog, Extra Dough Pro, aims to help moms find ways to make money on the side while still being available to their kids/families
How she overcomes this challenge:
It takes a lot of willpower. Sometimes I leave my phone in a different room, so as not to get distracted and concentrate on my work. I was constantly looking at pictures of my kids.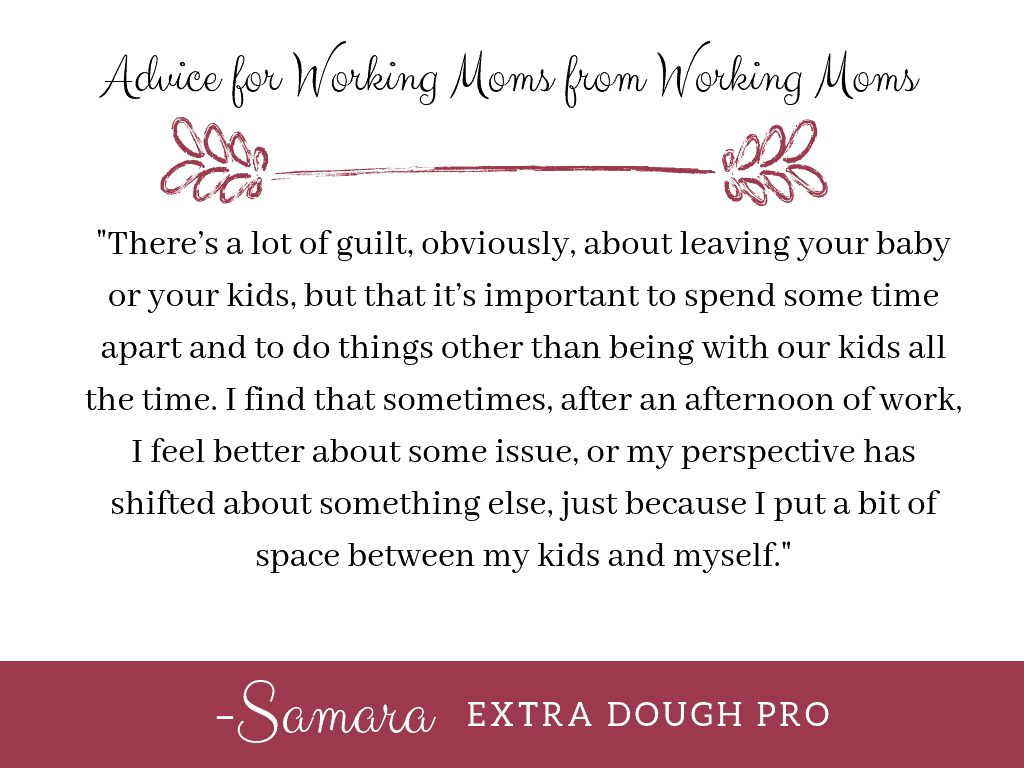 11) Trying to do it all
Danielle is an Emergency Department Nurse and a blogger. Her site My Slightly Chaotic Life is a lifestyle blog that focuses on parenting and lifestyle.
How she overcomes this challenge:
I tend to plan fun activities for the weekends that I am not working, and try to leave early or go in later to work to not miss out on my children's events. I reach out more to other parents for play dates on days that I can participate – in order to meet other moms and give my son a fun day.
Being a Working Mom Has Many Advantages
All of the working moms who were polled agreed that their are many benefits to their lifestyle.
For many, their favorite part of being a working mom was the positive example it set for their children. You can inspire your children by showing them that you are a strong woman and that you can work hard for what you want.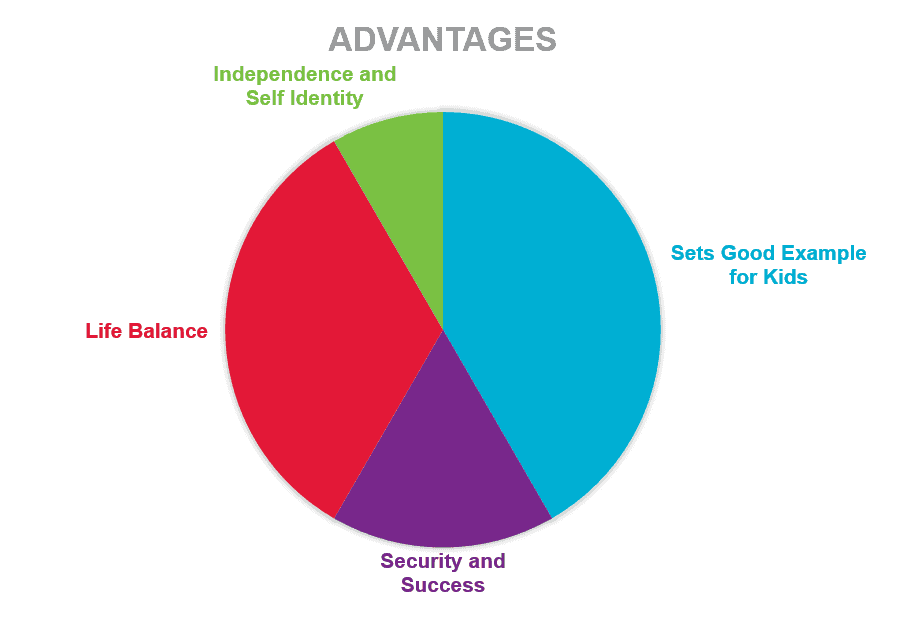 Additionally, many working moms admitted that having a job gives them some balance to life. They feel refreshed and excited to see their children at the end of the day.
Studies continually show that daughters of working moms grow up to have successful careers. Also, the sons of working moms often play a larger role in their family.
Let those stats sink in for a moment.
Final Thoughts
It is important to remember that you are a rock-star, and that there are many other women in the same boat as you. Find what works best for you and remember the positive influence you have on your children.
If you found this helpful, share it!
Check out some of my other Working Mom posts: