Enjoy and share these simple inspirational quotes from mothers to sons. When your little boy starts to grow up, there are important things a mother can do to maintain a special bond. These mother and son quotes will help you stay close through the good times and the hard times.
As the oldest of five daughters, my jaw dropped to the ground when the ultrasound technician told my that my first child was going to be a boy.
Of course I was nervous about my ability to raise a strong yet respectful son, but there were so many other thoughts flooding.
Can I keep them safe when they inevitably climb my bookcase? Will I be able to keep the toilet seat clean? Can I keep it together when their little hands wipe dirt on everything?
But most importantly I wondered if I would know how to bond with my dear son.
Related: 7 Ways to Raise Boys into Gentlemen
When I had my oldest son, I remember looking down at his beautiful face and it all clicked.
It turned out that raising boys came almost naturally to me.
Their contagious curiosity opened up a new world of wonder for me.
And their bold energy drove us to bright adventures and some of my greatest experiences to date.
The best thing was, I realized that with some extra work you can raise a good sun and a better man.
My two sons have been the greatest joy, and taught me a lot about myself as a woman and mother.
You may also like: How to Strengthen Your Mother-Son Relationship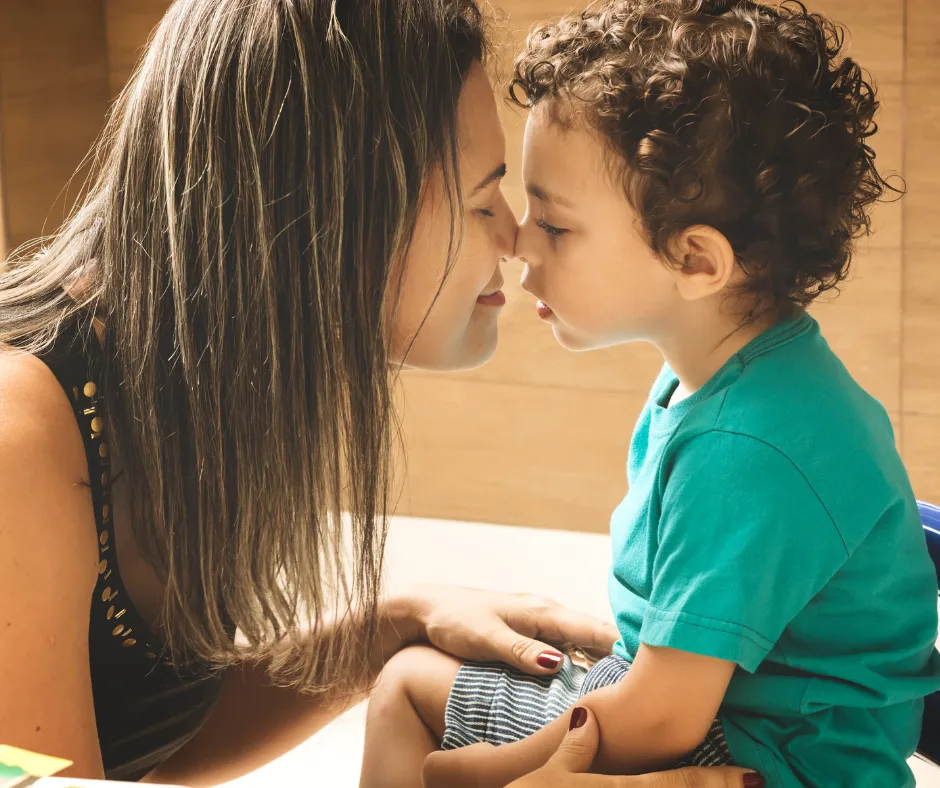 Read: 5 Ways to Hardwire Your Kids for Happiness
Inspirational Quotes from Mothers to Sons
These boy and mom quotes remind you that the love of your son is strong and powerful. And, you are their first love and you will always have a special place in their heart.
What a special relationship to be a part of.
If a man has been his mother's undisputed darling he retains throughout life the triumphant feeling, the confidence in success, which not seldom brings actual success along with it. -Sigmund Freud
There is an enduring tenderness in the love of a mother to a son that trancends all other affections of the heart. — Washington Irving
She loved a boy very, very much– even more than she loved herself- Shel Silverstein
I have a son, who is my heart. A wonderful young man, daring and loving and strong and kind.- Maya Angelou
The best way to make children good is to make them happy. – Oscar Wilde
That strong mother doesn't tell her cub, Son, stay weak so the wolves can get you. She says, Toughen up, this is reality we are living in.- Lauryn Hill
To be a mother of a son is one of the most important things you can do to change the world. Raise them to respect women, raise them to stand up for others, raise them to be kind. – Shannon L. Alder
The heart of a mother is a deep abyss at the bottom of which you will always find forgiveness – Honore de Balzac
Learn 3 Facts about the Boy Brain that can lead you to better parenting here!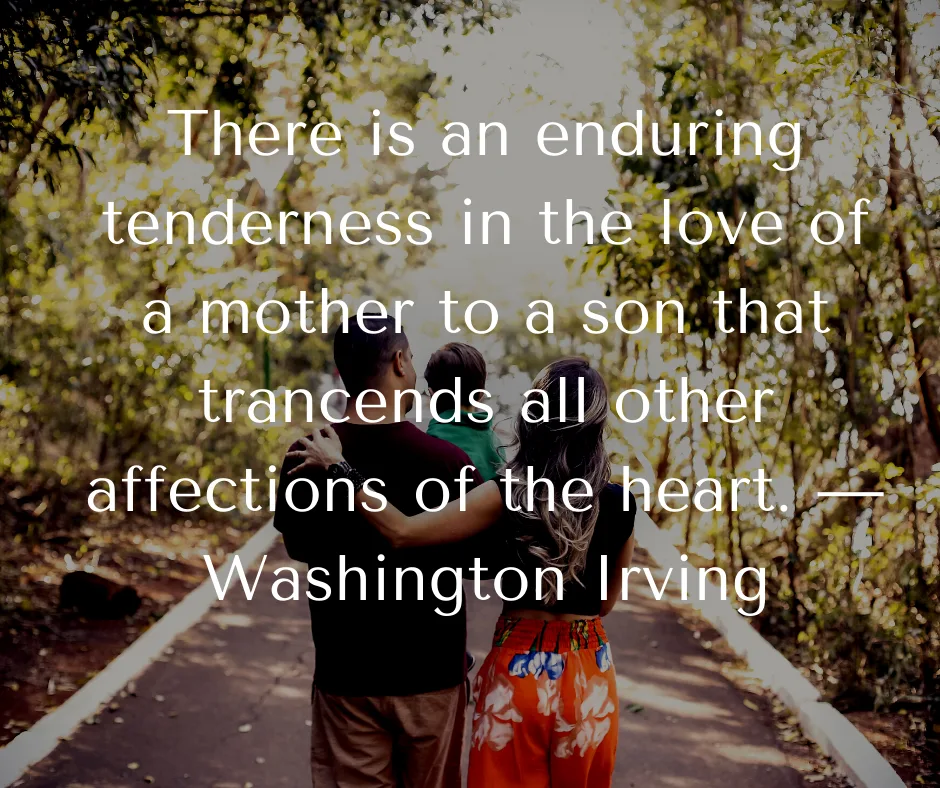 Raise Kids who come to you with problems, not hide from you with these tips on communicating with teens and kids.
Mother is her son's first god; she must teach him the most important lesson of all, how to love. – T. F. Hodge
Raising boys has made me a more generous woman than I really am. – Mary Kay Blakely
The most important mark I will leave on this world is my son. –unknown
What greater aspiration and challenge are there for a mother than the hope of raising a great son or daughter? – Rose Kennedy
Sons are the anchors of a mother's life. – Sophocles
A boy's best friend is his mother. Joseph Stefano
A mother's love doesn't make her son more dependent and timid; it actually makes him stronger and more independent. – Cheri Fuller
To wake up to the sound of my son saying 'Mama, mama!' It's the best sound ever. – Miranda Kerr
There is an endearing tenderness in the love of a mother to a son that transcends all other affections of the heart. – Washington Irving.
Yet now in my arms, I was holding a helpless baby boy who would grow into a man. I cannot imagine that soft little face one-day having whiskers." – Rhonda Stoppe
There was never a child so lovely but his mother was glad to get him to sleep. – Ralph Waldo Emerson
If evolution really works, how come mothers only have two hands? — Milton Berle
One of the greatest gifts I have ever gotten is my son. – Unknown
All that I am, or hope to be, I owe to my angel mother- Abraham Lincoln
I live for my sons. I would be lost without them. – Princess Diana
My mother is my root, my foundation. She planted the seed that I base my life on, and that is the belief that the ability to achieve starts in your mind. – Michael Jordan
Check out Proud Happy Mama for more wonderful son quotes or gentleman quotes.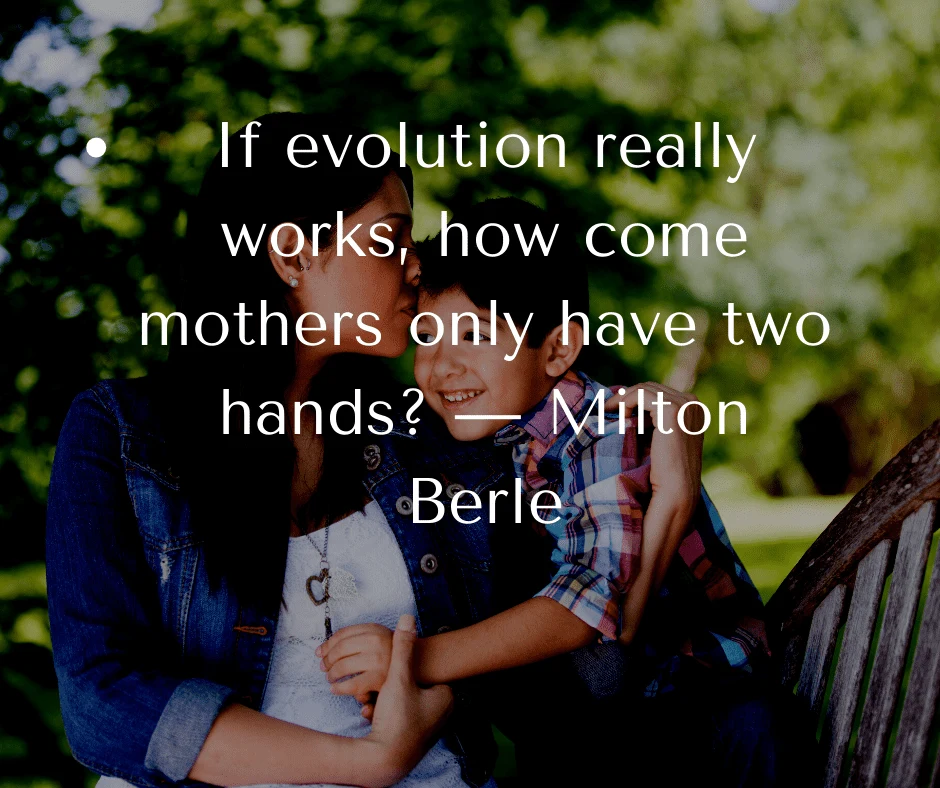 Raising Daughters? Show her these girls' confidence quotes.
A mother's arms are made of tenderness and children sleep soundly in them. – Victor Hugo
Mama was my greatest teacher, a teacher of compassion, love and fearlessness. If love is sweet as a flower, then my mother is that sweet flower of love."– Stevie Wonder
Sometimes the strength of motherhood is greater than natural laws. Barbara Kingsolver
When you are a mother, you are never really alone in your thoughts. A mother always has to think twice, once for herself and once for her child. – Sophia Loren (my favorite quote)
When you look into your mother's eyes, you know that is the purest love you can find on this earth. – Mitch Albom
Happy is the son whose faith in his mother remains unchallenged – Louisa May Alcott
You don't raise heroes, you raise sons. And if you treat them like sons, they'll turn out to be heroes, even if it's just in your own eyes. – Walter M. Schirra, Sr.
Mother's love is bliss, is peace, it need not be acquired, it need not be deserved. – Eric Fromm
I would rather have ideas and some difficulties of technique than a perfect technique and no ideas." — Mstislav Rostropovich
Every child is an artist. The problem is how to remain an artist once he grows up.- Pablo Picasso
Related: Ode to a Sports Mom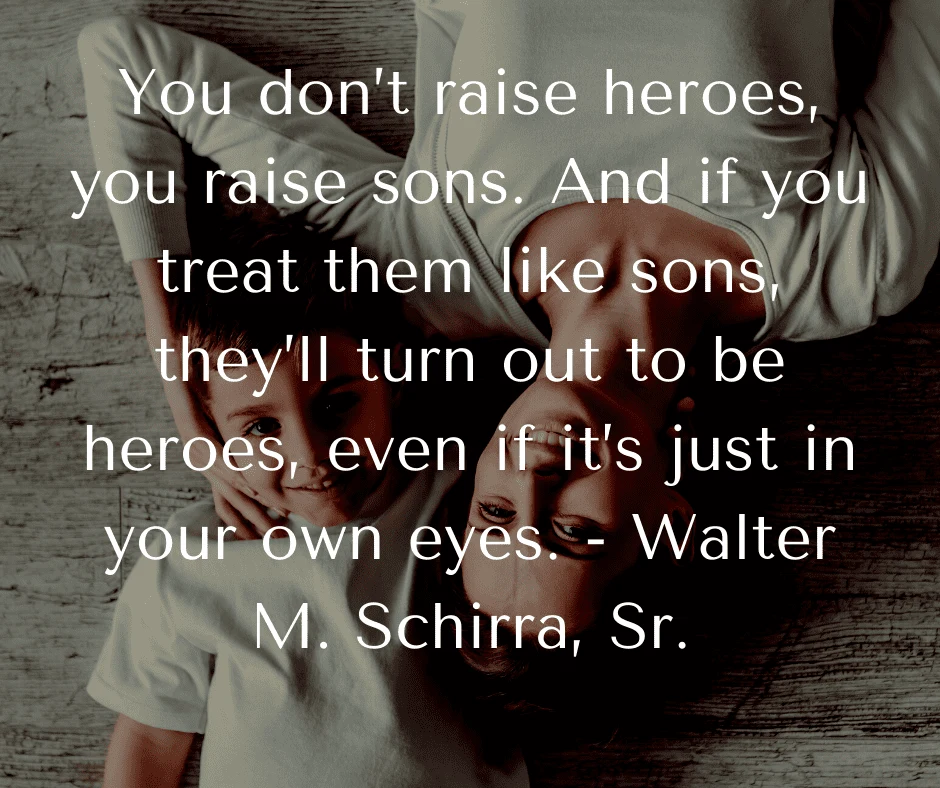 Final Thoughts on Inspirational Quotes from Mothers to Sons
The mother's heart beats fiercely for her son.
Enjoy these beautiful quotes with your growing son.
For more tips on raising kids who are healthy at home and strong in the world, follow us on Facebook.
Also check out these Friday Good Morning Inspirational Quotes to Kickstart Your Weekend or these Bible Quotes for Youth.