Use these self love journal prompts to quiet your annoying inner critic and improve your mental health. These simple journal prompts can lead to personal growth and a positive impact on a daily basis. All of these activities are great for people of all ages.
I realized that the way I was talking to myself was totally different than the way I talked to my friends.
When my friends feel too tired to go on, in need of a break, or see themselves as failures, I tell them "you are doing a fantastic job. You need a rest. Your family loves you!"
However, I am a total jerk to myself. I don't accept "fatigue" as an excuse. I'm constantly thinking of myself as a failure. I tell myself I am doing a lousy job.
We, as modern humans, are often eager to accept the mistakes and shortcomings of others. We admire even small achievements.
On the other hand, we are often quick to judge ourselves. We see small mistakes as catastrophic failures, and aren't impressed by our own successes.
Our inner voice is often our toughest critic.
Are you tired of negative thoughts preventing you from living your best life?
Do little things get in the way of your happiness?
It's time to start to talk to yourself like you are your own best friend.
What better way to get some self-appreciation on that a self-love journal!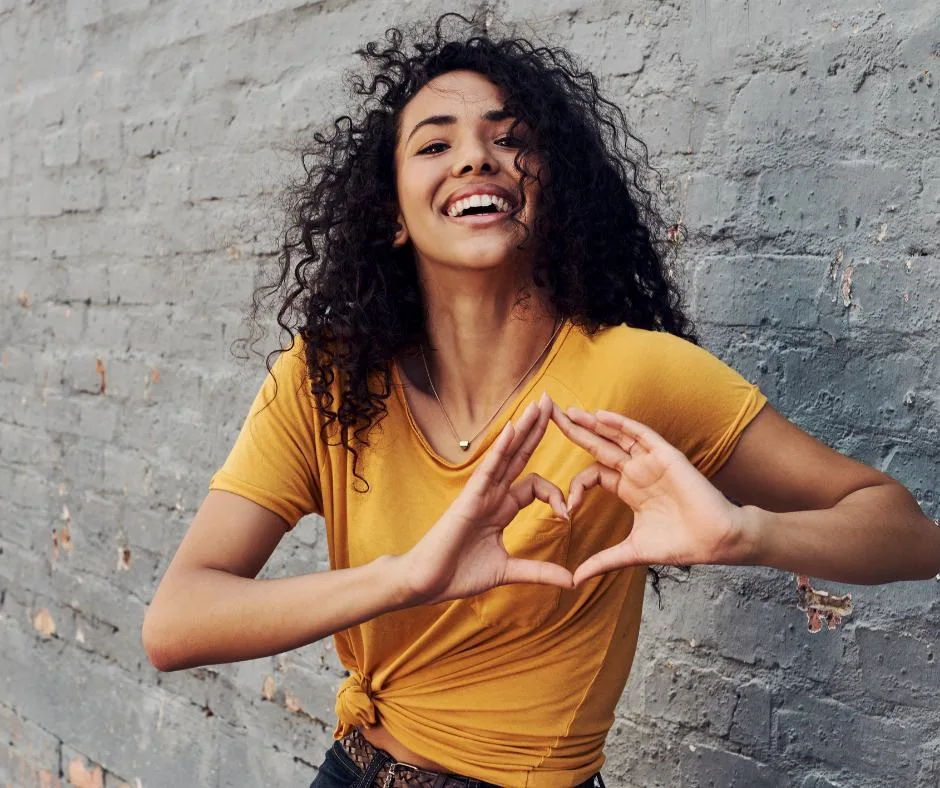 Why Are We So Hard on Ourselves?
According to a recent poll, one quarter of Americans under 35 say they tend to not like themselves.
When asked what American men and women dislike about themselves, the most common answers include their physical appearance (weight and looks) and the way they treat others.
Dr. Robert Firestone explains that this feeling about ourselves is common because every person is divided.
He explains that each of us has a "real self," a part of us that is self-accepting (our own cheerleader) as well as an "anti-self," a side of us that is self-hating, also known as our inner critic.
Your "real self" might tell you that you appear tired and you need a nap. Then, your "anti-self" might jump in and say "you are so lazy and you wasted so much time."
Luckily, there are proven methods to start viewing yourself in positive ways and boost self-esteem.
One simple way to quiet negative self-talk and transform self-doubt is with a self love journal.
Related: "It's Friday, Good Morning Inspirational Quotes" to Kickstart Your Weekend
Benefits of Self Love Journals
Often when I refer to journaling, people have a hard time avoiding the eye rolls – but keep an open mind.
There are many proven benefits of journaling including:
Improves physical health: A 2018 research review suggests that writing about your deepest thoughts and feelings may contribute to: fewer stress-related doctor visits and lower blood pressure.
Reduces Stress: In one study, families and healthcare practitioners reported a reduction in stress levels after completing a gratitude journal exercise for 12 to 18 months.
Helps you process emotions: Experts say that journaling gives you the opportunity to process your emotions in a safe space. When you identify the emotions you're experiencing, it reduces their power – making them less overwhelming and easier to cope with.
Basically, the practice of documenting how you feel can help you uncover deep feelings and hidden emotions.
The perfect way to be a better version of yourself, is to get to know yourself through journaling.
Related: 5 Things I Cared About in my 20s that I Don't Care About in my 30s
You may also like: The Best Journal Prompts for Anxiety
20 of the Best Self Love Journal Prompts
Prompts are guided questions for your journal pages. When you write down your thoughts, it can help you see it from an outside perspective.
Essentially, it can help you start to ignore your inner critic and see yourself as a 'friend'.
These are the best self worth journal questions for your self-discovery:
Self Esteem Prompts
Name three kind things you have done for others recently:
What are three positive qualities about you:
What are you proud of yourself for?
List things that make you unique:
What is something others love about you?
Self Discovery Prompts
Name three flaws you accept about yourself.
How do you cope when things go wrong?
What motivates you?
When do you feel most comfortable in life?
What motivates you?
Self Love Prompts
What can you tell yourself when negative thoughts arise?
What is one thing I can try and release control over?
Describe a loving thing you can do for yourself today:
What does a fulfilled life mean to you?
Name three reasons why you deserve to be happy:
Also read: How to Raise Kids who GROW when Times are Tough
Personal Development Prompts
What are three positive changes you would like to make in your life?
Describe three qualities that you admire in other people:
In general, how would you like to see your future self?
What are three actionable steps you can take to be a better version of you?
What are you passionate about?
Subscribe below to download your free journal printable: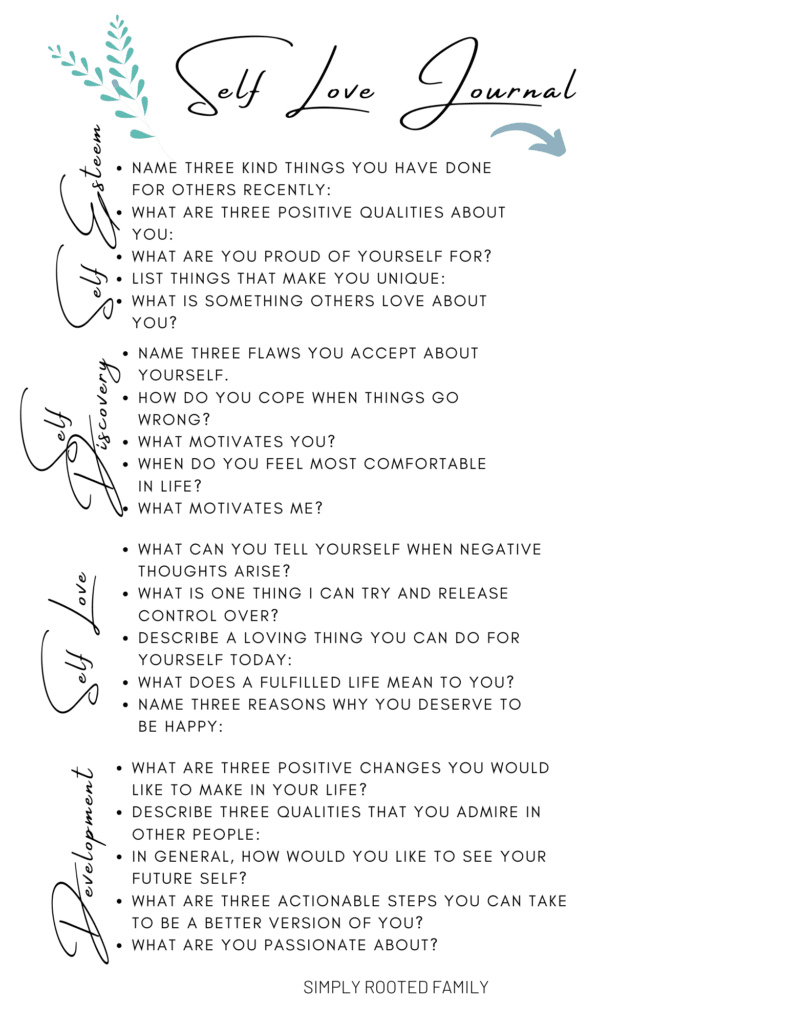 Looking for a motivational book or journal guide? Check out what Leslie Marchand offers here.
Other Self Love Activities
In addition to journal prompts, there are many other good habits and useful tools to grow a positive relationship with yourself, including:
For more motivational journal tips for your self-love journey, check out these other journal options or download your free anxiety journal prompts here:
Final thoughts on Your Self Love Journal
Buddha once said "You yourself, as much as anybody in the entire universe, deserve your love and affection."
Repeat that.
When you try these effective ways to improve self confidence, you will see dramatic changes.
You will start to talk to yourself like you are a friend, and you will learn to tell your "anti-self" to shut up.
Serenity of self-love is a beautiful thing. Enjoy!
If you found this helpful, follow us on Facebook for more discussions on family wellness.