Whether you have a diagnosed anxiety disorder or even just occasional anxious thoughts, these journal prompts for anxiety are a great way to sort through your negative thoughts and bring peace to your daily life. These writing prompts are great for all ages.
I like to think of the feeling of anxiety as a child's first time sitting on a rocking chair.
As they tilt backwards, they feel increasingly unsteady and panic at the thought of colliding with the ground. Then, then they tilt forward and watch the ground getting closer to their face.
You have little time to enjoy the present moment because you are worried about what happened in the past or what is to come.
It's no surprise that practicing self-love and mindfulness is almost impossible when you are battling anxiety.
Your brain is swirling with regrets or fears.
Maybe you are replaying something in your head and feeling guilty about an event that happened in the past.
Or, maybe you are dreading a future event and can't seem to quiet your mind.
Regardless, anxiety has the ability to cloud our mind with so many thoughts about both the future and past, making it challenging to focus on what truly matters- the present moment.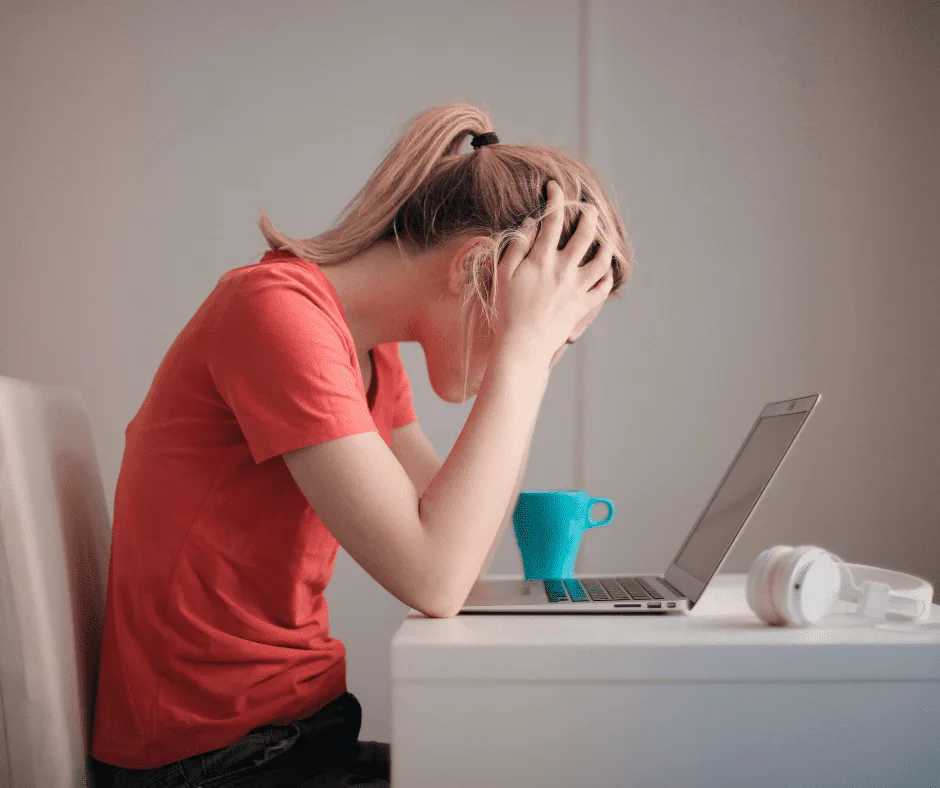 Download your anxiety journal prompts at the end of this blog post.
The Tricky Trouble with Anxiety
Anxiety has a purpose. If a lion walked in your front door right now, your brain would jump into fight-or-flight mode.
Your amazing body kick starts physical and mental processes to get you ready to save yourself from that lion.
However, in the absence of a lion, our brain's perceive threat in other places.
Of course anxiety is hard to control. When you are anxious, your brain is literally going through some pretty intense changes.
In an anxious state, your amygdala (the part of your brain that perceives threats and fears) literally grows, which makes you hyperreactive to anything your mind sees as a threat.
Also, long-term stress shrinks the hippocampus, the part of the brain that processes memory. It buries your happy memories (which aren't needed when a lion approaches), and holds onto anxiety-related memories to be prepared for future threats (such as the next lion that walks through your door).
These changes often lead to chronic anxiety, anxiety attacks, or other mental illnesses.
Luckily, if you are suffering with feelings of anxiety, there are things you can do, such as journaling, to gain back control of your brain and your life.
If you feel that you are suffering from depression or anxiety symptoms or other mental health issues, seek professional help right away.
You may also like: How to Project Positive Vibes at Home
3 Benefits of Journaling
Mental health journal prompts are a powerful tool that can help you take control of your emotions and see positive change.
Daily journaling practice has many proven benefits:
Improves physical health: A 2018 research review suggests that writing about your deepest thoughts and feelings may contribute to: fewer stress-related doctor visits and lower blood pressure.
Reduces Stress: In one study, families and healthcare practitioners reported a reduction in stress levels after completing a gratitude journal exercise for 12 to 18 months.
Helps you process emotions: Experts say that journaling gives you the opportunity to process your emotions in a safe space. When you identify the emotions you're experiencing, it reduces their power – making them less overwhelming and easier to cope with.
While there is no wrong way to journal, journal prompts can help guide you work through your feelings in a healthy way.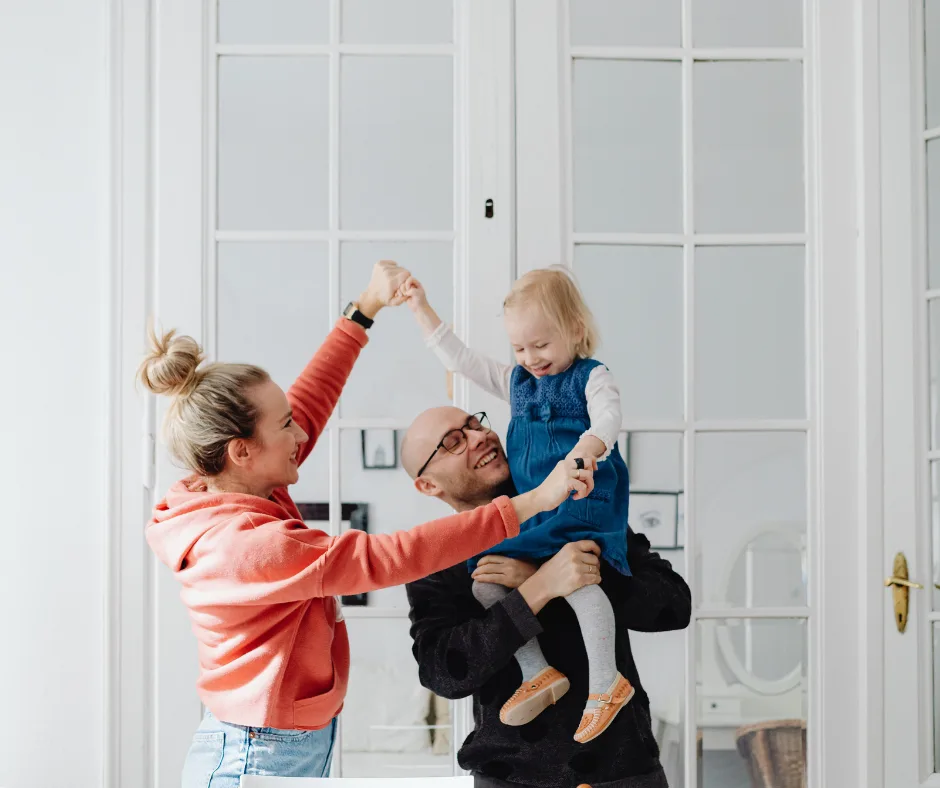 Also check out these Bible Quotes for Youth and Kids.
3 Journal Prompts for Anxiety Relief
Journal writing is a powerful way to work through anxious feelings and see the positive things in life. This simple list of journal prompts to get through any difficult situation, negative experience, or anxiety triggers:
1. Self-Appreciation Anxiety Journal Prompt
During difficult times, it can help to take a closer look at what is bothering you.
One of the biggest challenges we face during hard times is trying to separate emotions from reality.
A self-awareness or appreciation is a good way to work through negative or anxiety-driving emotions. It These journal entries will help you assign logic to uncomfortable emotions- big or small.
This journal prompt includes questions to dig into why you feel a certain way and then a section to defend yourself. Essentially, it is a way to remove unnecessary emotions from a situation.
For example, this morning I had anxiety related to mom-guilt. I practically hated myself after my kids got on the bus. When I sat down and worked through it, it was because I had an argument with my daughter, I forgot to dress my son in a "theme" shirt, and my other son told me he wanted to pack lunch and I forgot it.
When I actually wrote these things down and explained to myself that we had a busy weekend and that my kids would be fine, I realized how silly this guilt was.
The free downloadable Self Appreciation Journal Packet at the end of this post includes a template.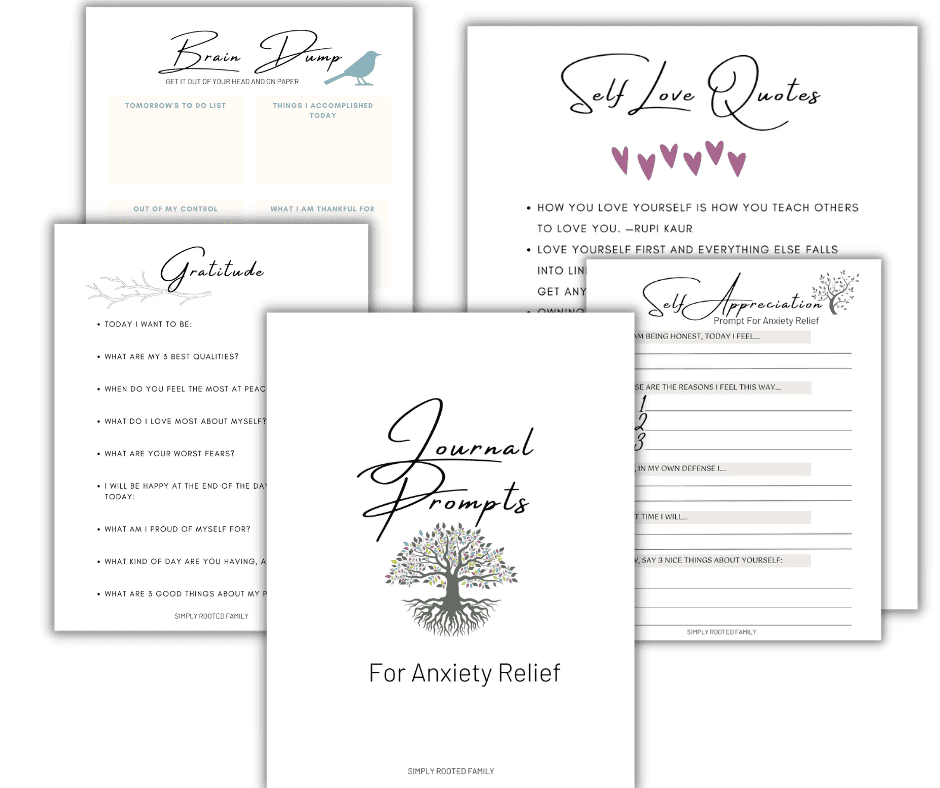 Also check out these 20 Self Love Journal Prompts.
2. Brain Dump Prompt
Think of a grocery list. You write it down so that you can stop constantly trying to remember the items you need to buy.
That is exactly how a brain dump works.
A brain dump is a transfer of all of your thoughts and knowledge onto paper. The idea is to round up ideas and racing thoughts so that your mind can see clearly.
These 'thoughts' can include tomorrow's to-do lists, how you want to see your future self, long-term goals and more.
Brain Dumping is actually a coping skill. It involves removing the over-thinking thoughts from your mind and placing them somewhere else, like on a piece of paper.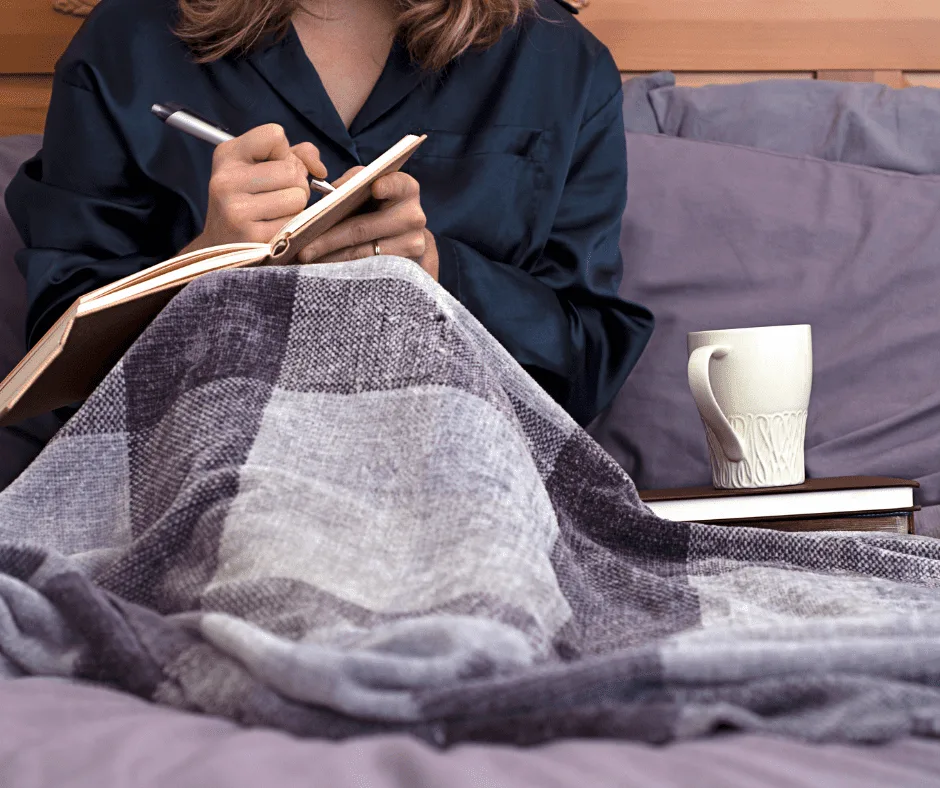 When I do a brain dump at the end of the day, it prevents me from waking up in the middle of the night worrying about the day to come.
Print your own brain dump and add this new skill to your daily routine.
You may also like: Inspirational Quotes for Bullet journaling and 30 mindful journaling prompts.
3. Gratitude journal prompt
The best journal prompts for anxiety are ones that teach you to talk to yourself like you are your own best friend.
Some good ideas include:
What are my 3 best qualities?
When do you feel the most at peace?
What are 3 good things about my personality?
I will be happy at the end of the day if I did this today:
What are your worst fears?
Subscribe to download your free Prompt workbook here:
Related: 5 Ways to Battle Feelings of Anxiety and Insecurity in Teenagers
5 Bonus Self-love Quotes
These 5 quotes can encourage you through stressful events, when you are outside of your comfort zone, or not feeling like your best self:
How you love yourself is how you teach others to love you. —Rupi Kaur
Love yourself first and everything else falls into line. You really have to love yourself to get anything done in this world. —Lucille Ball
Owning our story and loving ourselves through that process is the bravest thing that we'll ever do. —Brené Brown
Keep watering yourself. You're growing. —E.Russell
I must undertake to love myself and to respect myself as though my very life depends upon self-love and self-respect. —Maya Angelou
An important thing to remember is that everyone has anxious thoughts from time to time.
Looking to improve family wellness? Try these meditation and visualization scripts.
Final Thoughts on Journal Prompts for Anxiety
The best thing you can do for yourself on a daily basis is try to get to know YOU better.
These three journal prompts for anxiety will help you give yourself grace, free up your mind, and dissect your feelings.
All three of these actions will help you reduce your anxiety – because you need to save your energy for the next lion that walks through your door.
For more ways to build strong family roots, follow us on Facebook.