These 5 simple lessons about Jesus for kids will help your family have a strong, rooted foundation in faith that will last as they grow up.
The bible has almost 800,000 words in it.
It can be overwhelming to even the most prestigious scholars. It is mysterious to some of most experienced theologists.
When I decided that I wanted faith to be a foundation in my children's lives, I had no idea where to begin at first.
However, I read the new testament a few times and it hit me like a ton of bricks one day. There are a few simple, beautiful themes that are repeated over and over again – and that was where I was going to start.
Benefits of Faith and Jesus for Kids
Faith gives us something to believe in and live for outside of the mundane details of daily life.
It provides children with a set of principals to abide by rooted in hope, love, and humility.
Researchers have even found that faith in a higher power is associated many positive outcomes. Religion, faith and spirituality involvement are associated with better health outcomes, including greater longevity, coping skills, and health-related quality of life (even during terminal illness) and less mental health issues.
Building roots in religion will help your children have solid values and goals. And, if you are a Christian, focusing on what Jesus says is a beautiful place to start.
Also read: What Drains Your Kid's Emotional Cup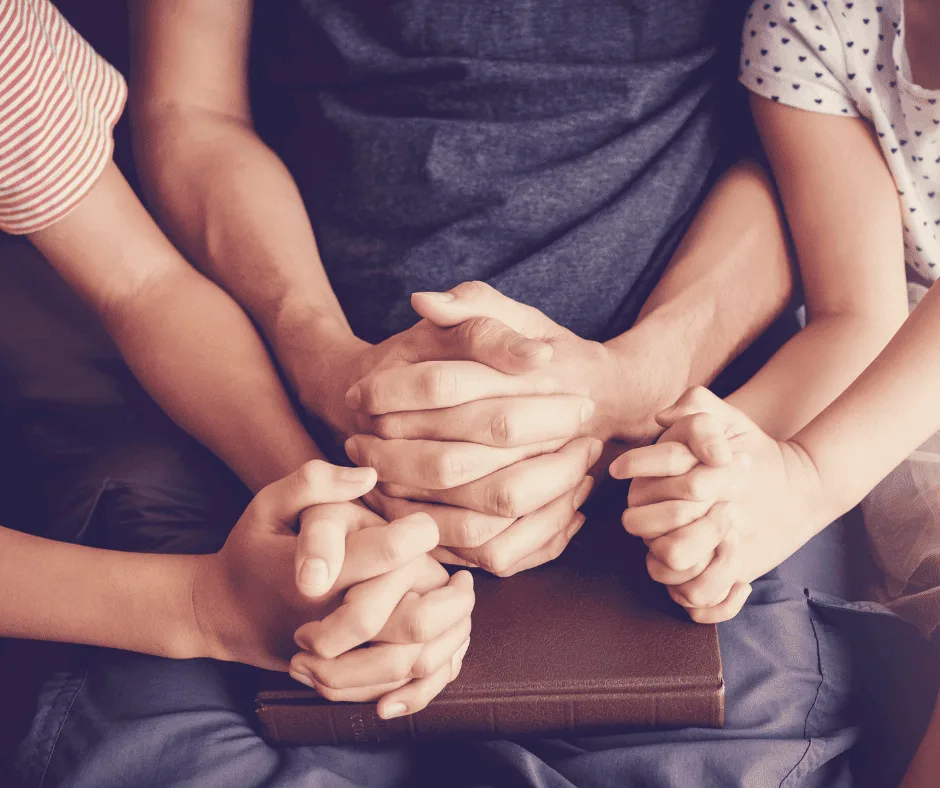 5 Simple Lessons About Jesus for Kids to Live by
Whether you are just starting to consider developing your faith, already lightly religious, or faith is a solid part of your family foundation, these 5 simple themes and values can help your child navigate life.
These are 5 reoccurring lessons that Jesus tells us in the bible:
1) Jesus Needs You to Forgive and Care for Others
When a woman was accused of doing something wrong, an angry crowd wanted to hurt her. Jesus told them whoever has never made a mistake or sinned can hurt her first- obviously knowing that everyone has sinned before.
He even said once, "If you forgive those who sin against you, your heavenly Father will forgive you. But if you refuse to forgive others, your Father will not forgive your sins. Matthew 6:14-15
Another time, he said, "When you are praying, first forgive anyone you are holding a grudge against, so that your Father in heaven will forgive your sins, too." Mark 11:25
Even when he was dying on the cross, he prayed for God to forgive the people who harmed him.
Jesus wants us all to treat others how we want to be treated – and that includes forgiving other people when they make mistakes.
Also, check out these bible verses about pregnancy.
2) Jesus Wants us to Worry Less and Pray More
Everyone worries. It's an inevitable part of life for kids and adults.
Jesus tells us in the bible that when we are worried, to remember that God cares about you and to pray instead of spending time worrying.
He reminds us here: "Therefore I tell you, do not worry about your life, what you will eat or drink; or about your body, what you will wear. Is not life more than food, and the body more than clothes?" Matthew 6:25
He explains that the birds don't fly around worried, and we are more important to God than the birds. He has a plan for us and it is not our job to worry about it.
"Look at the birds of the air, for they neither sow nor reap nor gather into barns; yet your heavenly Father feeds them. Are you not of more value than they?" Matthew 6:26
Related: Bible versus about Parenting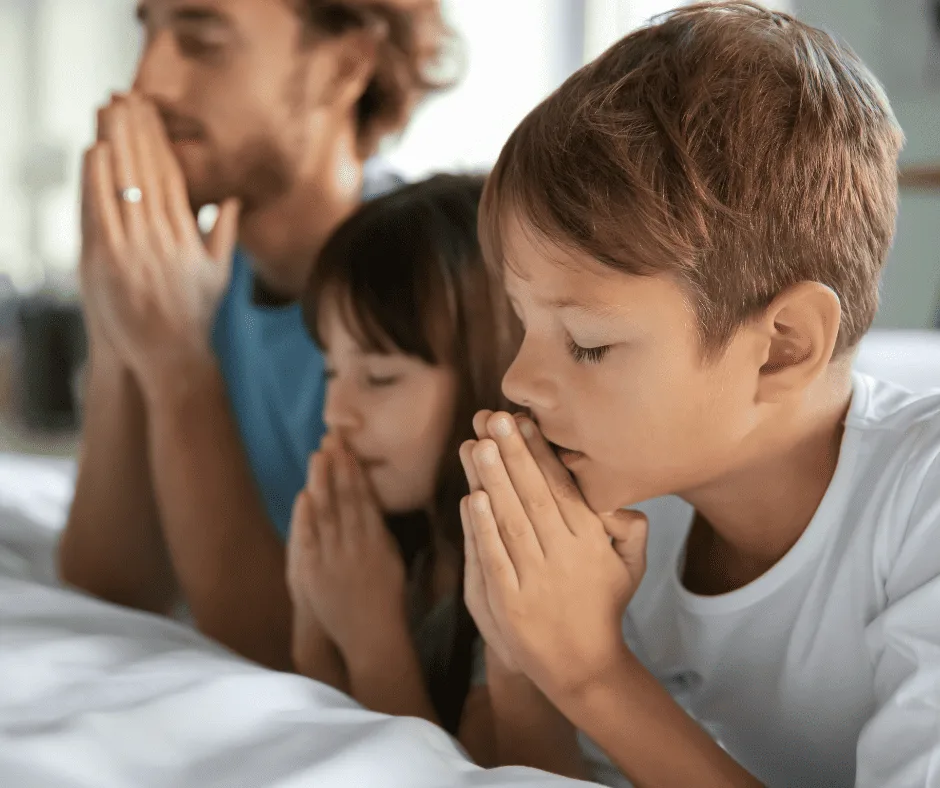 3) Jesus Expects us to Make Some Sacrifices
What feels good, or is fun to do is not always the right thing to do.
If something hurts others, is bad for our body or mind, or doesn't follow what Jesus tells us in the bible – it is best to skip it.
In Matthew 16:24, Jesus told His disciples, "Whoever wants to be my disciple must deny themselves and take up their cross and follow me."
What this means is that Jesus expects us to make some sacrifices to follow Him. He knows it isn't always easy to do the right thing. You may have to stop being friends with someone who is a bad influence or 'hurt your reputation' by sitting with the kid at lunch that has no friends.
You may have to give up some of your own hopes or possessions to do the right thing sometimes.
Also read: Teaching Kids to Set Their OWN Boundaries
4) Jesus Knows that You Will Make Mistakes and Sin
The great part about our faith in Jesus is that He KNOWS that we will make mistakes.
He loves us no matter what. That is a great feeling!
Related: More Bible Verses on Jesus for Kids
Jesus even said, "I tell you that in the same way there will be more rejoicing in heaven over one sinner who repents than over ninety-nine righteous persons who do not need to repent" (Luke 15:7).
He doesn't expect us to be perfect. It's the actually the opposite. When we make mistakes or sin, He wants us to simply apologize when we pray and have a plan to change.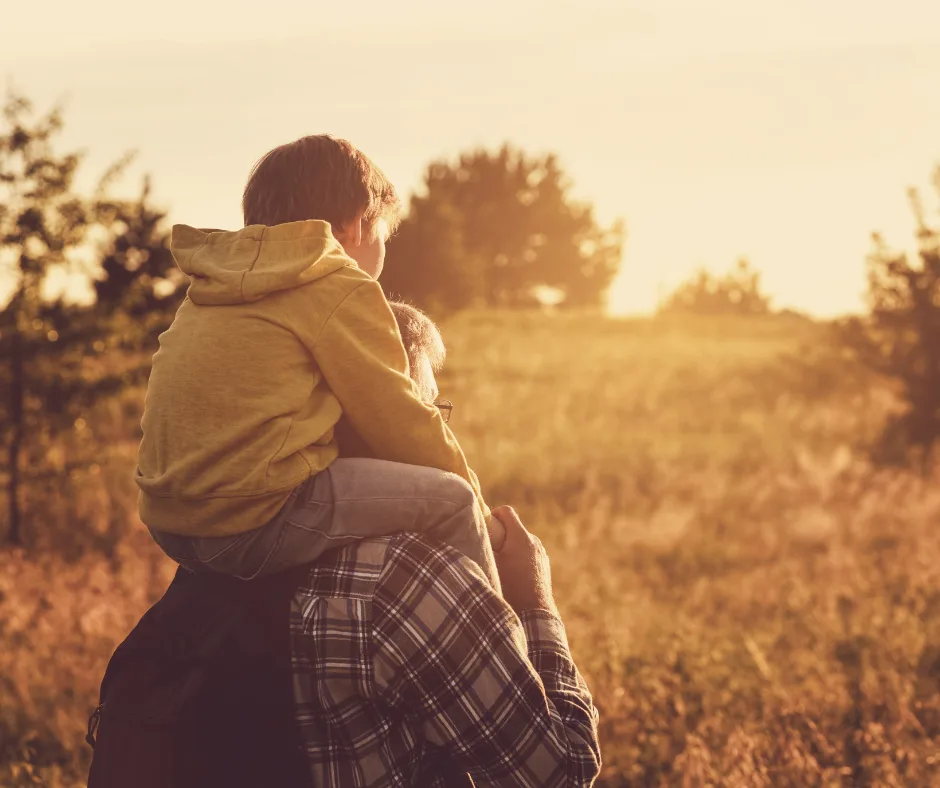 You May Also Like: How to Help Kids Reset After a Bad Day
5) Jesus Wants us to Know and Believe in Him
When my son and I were talking about our Faith recently he asked, "So, if Jesus expects us to make mistakes, how do we know how to get into Heaven?"
I pointed him to, what I think is one of the most important bible verses about our faith.
Jesus said, "I am the way, and the truth, and the life. No one comes to the Father except through me. Because, if you confess with your mouth that Jesus is Lord and believe in your heart that God raised him from the dead, you will be saved. Truly, truly, I say to you, whoever believes has eternal life." – John: 14
I told him to pray to Jesus. Talk to Him about your day. Share with others who want to learn more.
Also read: How to make Kids Feel Valued at Home
Final Thoughts on Faith and Jesus Lessons for Kids
If I could pick out the most important lessons for kids out of the 800,000 words in the bible, I would say:
Forgive others and treat them kindly
Instead of worrying, pray about your problems and trust God's plan
If something doesn't seem right, don't do it
It's okay to mess up, Jesus expects it- be sorry and have a plan to change
Don't stop believing in Jesus, talk to him daily
These simple mindsets will help your child grow in love, faith, and humility. And have some pretty solid, timeless values to ground them on their life journey.
What a beautiful way to live life.
For more discussions on raising kids that are healthy at home and strong in the world, follow us on Facebook.
Print this as a reminder for your kids: