I come from a family of five girls (you heard that right, 5 sisters and no brothers!), so I witnessed early on some of the challenges with photography big families or large groups of people. It seemed like the stars had to align to get everyone color-coordinated, in the same place, and all looking at the camera. Although that seemed difficult as children, as you grow older and people move away and grow apart, getting pictures like this becomes even more challenging. When everyone is actually together for a picture, the last thing you want to do is ruin it by making avoidable beginner mistakes.
My mom became a pro at taking pictures of the five of us, and I learned some tips from her. When I started taking pictures myself, it really drove home the importance of some of the things she taught me. Plus, I quickly learned from my own mistakes the best ways to photograph large groups. It is simple to get great shots of big groups if you have the right tips and tools in your pocket. Let me walk you through important tips on camera settings, timing of the picture, and much more!
1) Pay Attention to Your Camera Settings!
If you are using a digital camera, this step is crucial! Don't make a common beginner mistake when photographing large groups of people. If you are unfamiliar with your camera settings, check out these easy to read posts explaining your camera.
You must pay attention to your aperture/depth of field. This is the "f" stop number on your camera. This is the setting that will both allow you to take pictures in lower light AND give you that blurry background effect. The reason this setting is so important when you are photographing large groups is this: If you are using a "lower" F number (which gives you the blurry background), if you are not careful then some of the subjects will be blurry, also.
This is a classic mistake that I made early on! I'd strive for that blurry background and my subjects in the back were always blurry. Ugh- picture was instantly ruined! If I am photographing more than 1 person I use an "f" of at least 4! You want to make sure that your "f" number is never lower than the number of people in the pictures, or at least the number of rows of people. For example, if I am photographing 5 people, I try to use an "f" of around 5. If I am photographing 10 people, I don't necessarily need an "f" of 10, but I use my judgement based on the number of rows those 10 people line up in.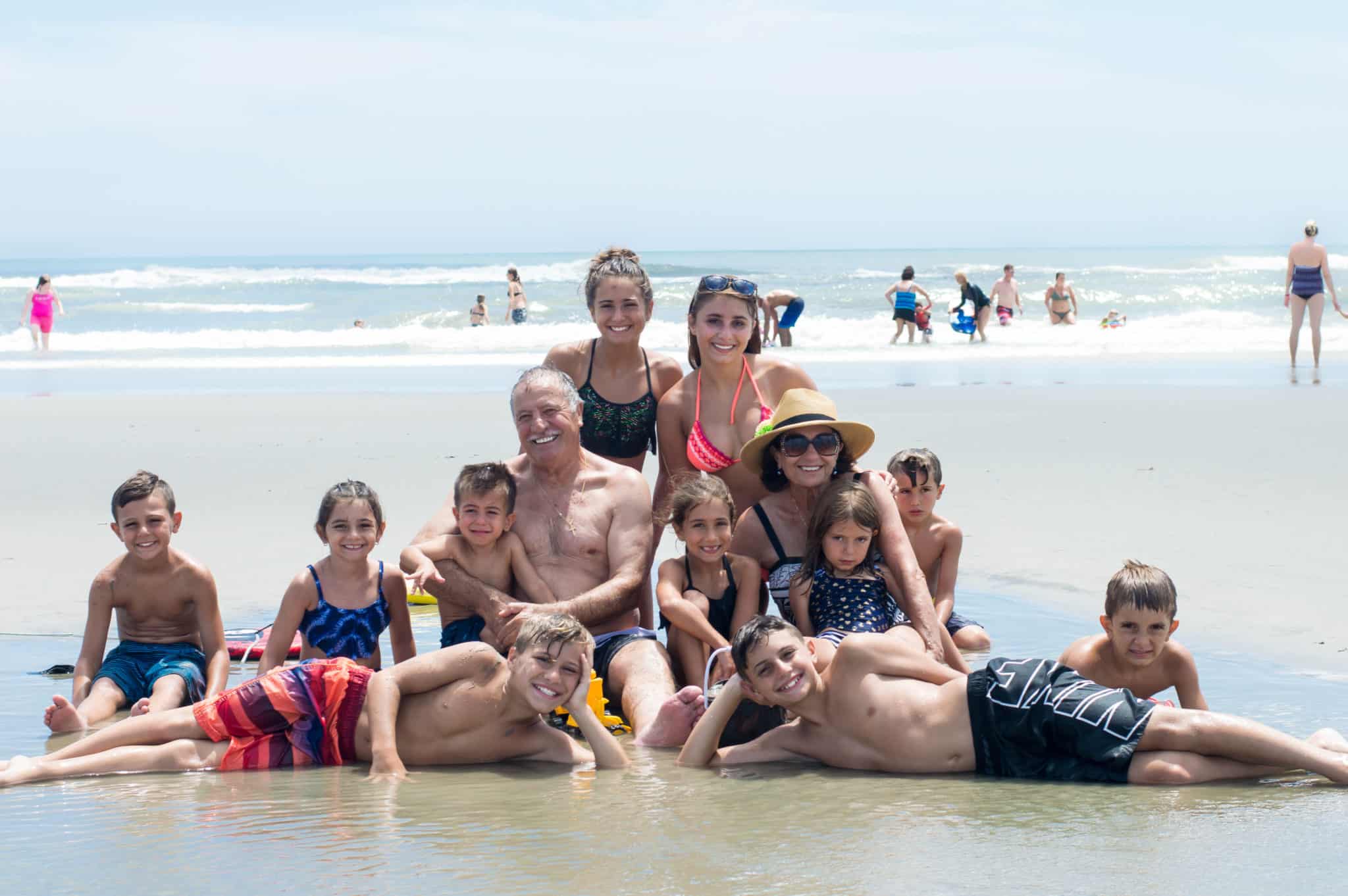 2) 1, 2, 3- Say Cheese!
If I am taking pictures of a small group of people, I click away and try to get an many shots as I can. However, when I am taking a picture of a larger group, I found that a different approach works better.
I found that more precise timing works better for big groups. If you don't rely on a "1, 2, 3 say Cheese!" approach, you will have some people blinking, others resting their cheeks, and others chatting away in the images. Being more direct with when you plan on pressing the trigger on your camera has better outcomes with large groups!
If you have editing software, you can swap out the blinking faces, for smiling ones. However, why would you want to edit the faces when you could get it right the first time!
3) Location and Outfit Selection
No matter where you choose to take your pictures, make sure you pay attention to the following:
Have Consistent Lighting: Make sure the lighting is the same across the the entire image. The image looks choppy if some people are shaded and others are in direct sun.
Avoid shadows. Avoid areas with odd shadows. I once took a family photo under a tree, and the shadows from all of the leaves looked like blotches on everyone's faces.
Watch out for direct sun. Always try to take pictures in the shade. Direct sunlight will cause people to squint in pictures and produce harsh shadows.
As far as outfits go, you want to avoid all wearing the exact same color or the exact same patterns. Typically pick a few primary colors for people to wear. You want to COORDINATE the outfits, not match the outfits! Check out my post on the 5 rules to follow when selecting photo shoot outfits.
4) Is it Your Family? Get in That Photo!
A few years ago, we had family in from out of town, and our regular family photographer was not available. I decided that I wanted to still get a picture of our entire family, so I dusted off our tripod.
Don't be afraid of trying a tri-pod to get a shot of a large group- with YOU in it! Tripods are great tools for getting images of large groups, and especially useful if you want to be in the image.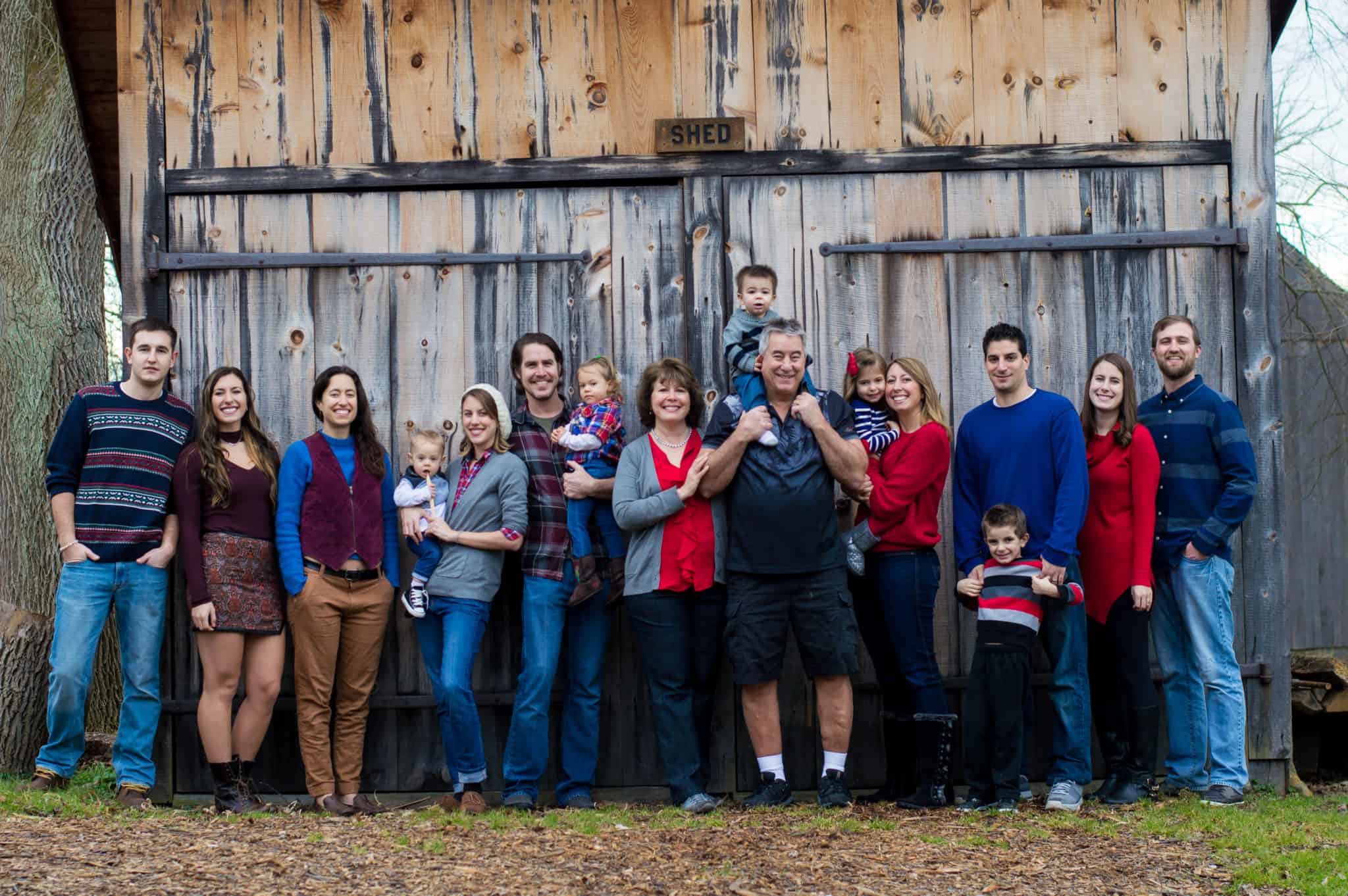 Tripods are extremely affordable tools, and a great option to have handy. My tripod was under $20, and I have used it several times since the above image. Check out my tripod below and another similar model.
Summary
In this fact-paced world, it is very difficult to get schedules aligned and people together. Don't ruin these important portraits by making beginner mistakes! By making sure you have the right camera settings and following a few of the other easy tips here, you will be guaranteed to capture these important moments!
If you found this helpful, share it!